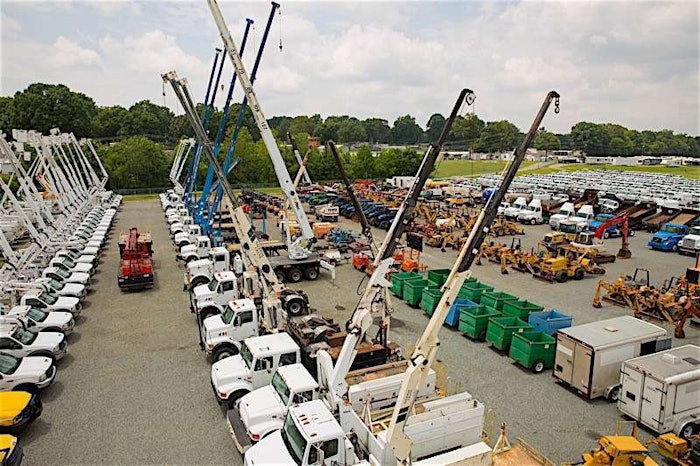 Bandit Industries has expanded the territory of Bobcat of Connecticut for its hand-fed chippers and stump grinders and will service customers in western Massachusetts in addition to Connecticut.
In business for more than 25 years, Bobcat of Connecticut joined Bandit's dealership network in 2015. This expansion comes via the exit of Tyler Equipment Corporation, which previously covered Massachusetts for the company. Tyler is exiting the tree care market and the companies are "parting ways on amiable terms," reports Bandit.
"The professionals at Tyler Equipment have been exceptional brand ambassadors for Bandit," says Bandit Industries President Jerry Morey. "We shared a strong business relationship and a strong friendship, and that friendship endures. We thank them for their devoted service and wish them nothing but the best for the future."
Read the full story here.
J.J. Kane Auctioneers has selected Proxibid as the exclusive provider of its timed auctions, beginning Jan. 20 and continuing on the third Friday of each month.
"We are thrilled to add timed auctions to our event calendar in 2017 to provide consignors and buyers with an additional way to liquidate and acquire equipment," says Joe Kane, auctioneer and owner of J.J. Kane Auctioneers. "Timed auctions offer easy access to our inventory in a format that allows for more flexibility."
With its timed auctions, Proxibid provides global access to bidding until the sale closes. The company allows for extended bidding that adds to bidding time on an item when a bid is placed "within the last few minutes" of the auction. Proxibid says this is done to provide a "level playing field for all buyers."
Read the full story here.
Just a few months after saying that it was eyeing an expansion into the U.S. market, Canadian contractor-to-contractor equipment rental service Dozr is now operational in both New Jersey and Florida.
In October the company garnered a nearly $2 million round of financing from Toronto's FairVentures Inc. and used the funding to begin its expansion south. The service allows heavy equipment owners to list and rent out equipment that would otherwise be sitting idle between jobs and calls itself "the Airbnb of construction equipment."
Dozr began U.S. operations in New Jersey in December and expands to Florida this month. The initial focus of the service in Florida will be in Miami, Tampa and Orlando. Construction, forestry, aggregate and agriculture equipment along with trailers, tools and storage options are offered.
Read the full story here.
After nearly 40 years in Belgium, Volvo Construction Equipment has announced that the company will be moving home.
The heavy equipment manufacturer will be relocating its global headquarters from Brussels to Gothenburg, Sweden, the home of the Volvo Group.
Volvo CE says the move "will facilitate closer cooperation with the Group's other business areas and allow for better usage of the competence and resources of the whole Volvo Group."
Read the full story here.
RDO Equipment Company's location in McKinney, Texas, finished in 2015, is the first for the company to receive LEED Certification from the U.S. Green Building Council (USGBC).
More than 10.7 billion square feet of construction space in more than 58,000 projects throughout the world are participating in LEED, according to USGBC.
"RDO Equipment Co.—McKinney's LEED certification demonstrates tremendous green building leadership," Rick Fedrizzi, USGBC president, CEO and founding chair, says. "The urgency of USGBC's mission has challenged the industry to move faster and reach further than ever before, and RDO Equipment Co serves as a prime example with just how much we can accomplish."
Read the full story here.