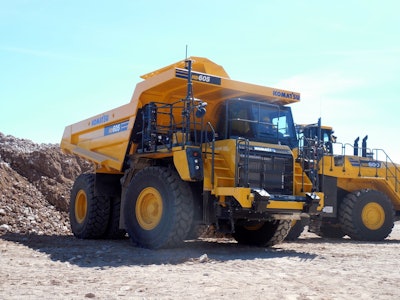 Boasting a turn radius the company says is sharper than many half-ton pickup trucks, Barko has launched its new Rough Terrain Carrier (RTC) package on three log loaders.
The new 295B, 495B and 595B RTC loaders are available in boom length options of 30, 32, 36 and 40 feet and all are powered by a 173-horsepower Cummins Tier 4 Final engine. Lift capacities range from 22,820 pounds on the 295B up to 38,820 pounds on the 595B.
The RTC package brings both 2-wheel, 4-wheel and crab steering capabilities along with front and rear planetary drive axles. In 4WD, the package offers an 18-foot turning radius and all wheels keep constant contact with the ground allowing these loaders to traverse rough terrain.
Read the full story here.
Hyundai Construction Equipment has introduced a de-tiering kit for its 9A-Series excavators and wheel loaders that allow these Tier 4 machines to operate safely in lesser regulated countries.
The 9A Series has been replaced in the last couple of years by Hyundai's new HX-Series excavators and HL-Series loaders. With some customers looking to sell these 9A-Series machines, Hyundai has released a de-tiering kit that would allow them to be resold into countries outside of the U.S. and Europe.
Read the full story here.
Komatsu has updated its HD465 and HD605 off-highway trucks with several improvements aimed at improving the trucks' production.
First, the HD465-8 and HD605-8 are now powered by a Komatsu SAA6D170E-7 engine that increases power to 724 horsepower over the Dash-7 models. The engine employs a diesel particulate filter and performs DPF regeneration passively with no action required from the operator and no interruption in operation.
Thanks to the new engine, fuel consumption on the new 465 is reduced by up to 7 percent and reduced by up to 12 percent on the 605. Further reducing fuel consumption is an auto idle shutdown feature which shuts the machine down after a preset idle time.
Read the full story here.
Doosan has replaced its Tier 3 DX225LL log loader with a new Tier 4-compliant model that adds work modes, better visibility and improved fuel efficiency.
Designed for a variety of forestry applications, the new DX225LL-5 log loader is powered by a Doosan DL06P Diesel engine rated at 166 horsepower. The new machines features four work modes for matching engine and hydraulic output to he job at hand. Further saving on fuel use is a new auto-shutdown system which shuts down the DX225LL-5 once a preset idle time is met.
When it comes to forestry equipment like a log loader, durability and vital component protection are key design considerations. To that end, the DX225LL-5 is built with thick steel doors and panels along with enhanced heel, arm and boom cylinder guards.
Read the full story here.
Ditch Witch has introduced a new air excavation lance with a design the company says increases airflow and operator comfort.
Designed for use with air excavators, the new Air Saber lance is rated at 250 psi for faster, more efficient digging. The lance features a fiberglass body and is nonconductive to increase operator safety across a variety of utility installation projects. Another safety-focused design aspect of this lance is its spring-lock, quick-connection system which prevents the air hose from inadvertent separation.
Read the full story here.