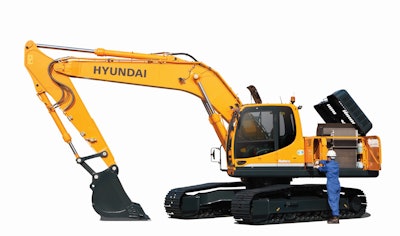 Hyundai Construction Equipment has introduced a de-tiering kit for its 9A-Series excavators and wheel loaders that allow these Tier 4 machines to operate safely in lesser regulated countries.
The 9A Series has been replaced in the last couple of years by Hyundai's new HX-Series excavators and HL-Series loaders. With some customers looking to sell these 9A-Series machines, Hyundai has released a de-tiering kit that would allow them to be resold into countries outside of the U.S. and Europe.
While more fuel efficient, the Tier 4 Interim (Stage IIIB) engines inside the 9A-Series machines require the use of ultra low sulfur fuel that is not available in many countries outside of the U.S. and Europe. The de-tiering kits, also known as "sulfur tolerance kits," allow Hyundai dealers to modify these machines for safe use with high sulfur fuels.
The dealers de-tier these machines prior to shipment to countries outside Europe and the U.S.