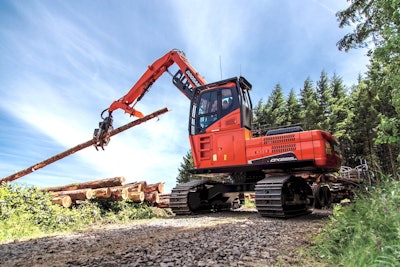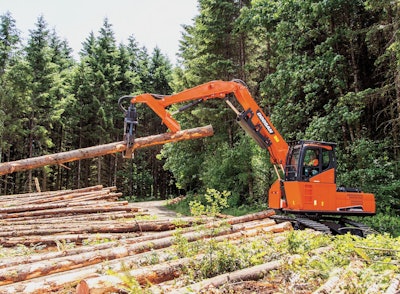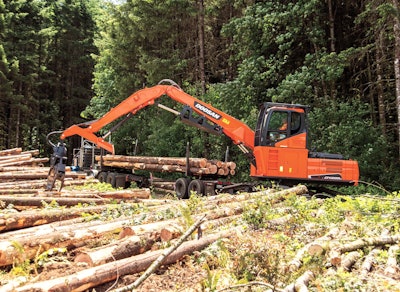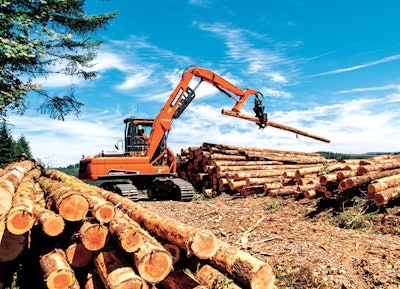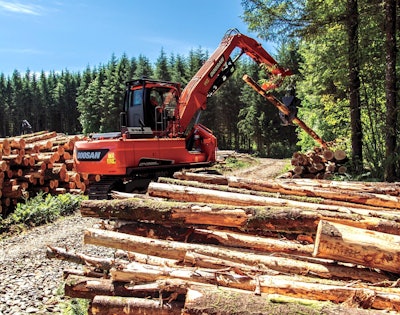 Doosan has replaced its Tier 3 DX225LL log loader with a new Tier 4-compliant model that adds work modes, better visibility and improved fuel efficiency.
Designed for a variety of forestry applications, the new DX225LL-5 log loader is powered by a Doosan DL06P Diesel engine rated at 166 horsepower. The new machines features four work modes for matching engine and hydraulic output to he job at hand. Further saving on fuel use is a new auto-shutdown system which shuts down the DX225LL-5 once a preset idle time is met.
When it comes to forestry equipment like a log loader, durability and vital component protection are key design considerations. To that end, the DX225LL-5 is built with thick steel doors and panels along with enhanced heel, arm and boom cylinder guards.
The fully guarded upper structure of the machine and high, wide undercarriage are designed specifically to handle the punishment of log loading, timber harvesting, forestry access road construction and maintenance, mill/yard operations and reforestation/fire control, Doosan says.
The machine also features a live heel which when paired with a log grapple is used to stabilize logs and sort, stack and load them onto trucks, Doosan says. The log grapple can be rotated 360 degrees for precise placement in truck-loading applications.
Thanks to a standard 4-foot cab riser, the machine offers a higher vantage point which further assists in loading. The cab features a cab guard and can be tilted for easier transportation. Inside the cab, operators will find a 7-inch display for monitoring fuel consumption, battery voltage, hydraulic pump pressure and viewing the rearview and optional sideview camera. Standard cab features include an air suspension seat, air conditioning and improved foot room.
Doosan also offers the DX225LL-5 in a road builder configuration. This configuration does away with the cab riser and is designed for creating access roads to the logging area, installing culverts and removing stumps. With this configuration Doosan also offers a pattern change valve for quick control pattern switching from SAE to ISO.
Available options for the machine include a straight travel pedal, block heater or diesel-powered coolant heater, and LED front and rear work lights. A side-entry forestry cab with guarded polycarbonate front, side and rear windows and a rear secondary exit is also available.