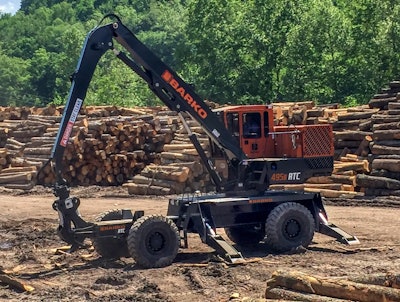 Boasting a turn radius the company says is sharper than many half-ton pickup trucks, Barko has launched its new Rough Terrain Carrier (RTC) package on three log loaders.
The new 295B, 495B and 595B RTC loaders are available in boom length options of 30, 32, 36 and 40 feet and all are powered by a 173-horsepower Cummins Tier 4 Final engine. Lift capacities range from 22,820 pounds on the 295B up to 38,820 pounds on the 595B.
The RTC package brings both 2-wheel, 4-wheel and crab steering capabilities along with front and rear planetary drive axles. In 4WD, the package offers an 18-foot turning radius and all wheels keep constant contact with the ground allowing these loaders to traverse rough terrain.
The loaders can travel up to 12 miles per hour and operators can shift on the fly thanks to a power shift transmission. RTC log loaders deliver 21,000 pounds of drawbar pull, enough to pull a small log trailer and climb steep grades of up to 45 percent.
Other features include steel lines along the inside of the frame, a 3/4-inch hitch plate for a pintle hitch mount and a travel alarm. Options include boom lights, cab risers and more.