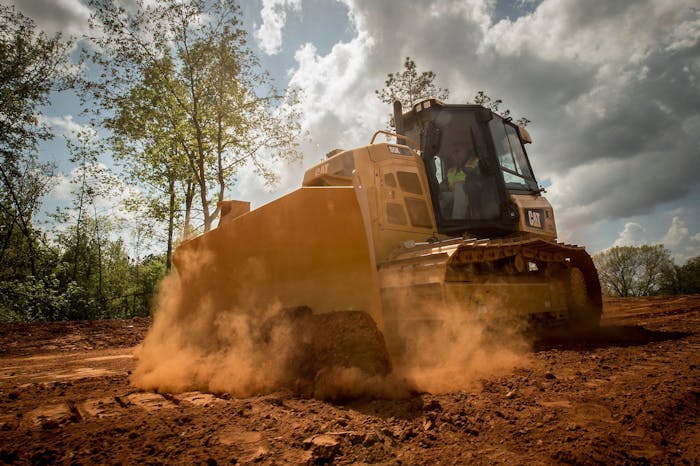 Cat's Grade Control 3D has now migrated to the smaller dozers in its lineup, the D3K2, D4K2 and D5K2. "This system is now the same from the D3 to the D8 size," says Joel Fritts, market professional, small track type tractors, Caterpillar.
The system automates machine functions during both production dozing and fine grading applications, and uses dual, roof-mounted antennas that eliminate the need to climb on the blade to remove both blade-mounted masts and cables at the end of the day. "All the components remain on the machine, so there's no need to worry about taking them off," Fritts says.
The in-cab display shows the grade plan, cut/fill data and grading indicators, all information that can improve productivity by up to 50 percent compared with conventional grading methods, according to Cat.
Read the full story here.
Kobelco has released an improved model of its SK14SRLC short rear swing radius excavator focused on performance and cab upgrades.
The new SK140SRLC-5 is powered by a 95.6-horsepower Isuzu Tier 4 Final engine that Kobelco says delivers "full-size power" to the machine's compact design. The engine meets emissions requirements through selective catalytic reduction (SCR) technology with the use of a diesel oxidization catalyst (DOC). Kobelco says the new engine not only reduces NOx emissions by 88 percent but also reduces engine noise to 70 decibels.
The machine's digging force is 21,357 pounds while digging depth tops out at 19 feet, 7 inches. Digging reach is 28 ft., 10 in. Swing speed is 11 rotations per minute and Kobelco says the machine features strong drawbar pulling force for powerful travel capabilities when tackling steep and rough terrain.
Read the full story here.
If you do a lot of work with skid steers, compact track loaders and mini-excavators, Trimble has developed a suite of products that will enable you to do many of the same things as contractors who run big equipment equipped with GPS machine control, but with less hardware and at a lower cost.
"Customers have seen the boom in machine control on the high end, and now they're saying they want the same kind of technology on small machines," says Alan Sharp, Trimble's business area director for strategic software. These customers are building things like sidewalks, bicycle paths, parks, custom homes and small sites that often have complex topography, he says.
Trimble is meeting these needs with a two-pronged approach announced at its Dimensions conference in Las Vegas. First is software.
Read the full story here.
Aimed at delivering power and versatility to contractors on confined jobsites without the need of hopping into and out of the cab a skid steer or compact track loader, Ditch Witch has introduced the SK600 mini skid steer.
This tracked compact utility loader is powered by a 24.8-horsepower Kubota engine. The machine's 600-pound operating capacity and 76-inch hinge-pin height make it a particularly good fit on landscape and irrigation jobs, Ditch Witch says.
"Today's landscape operators face a variety of challenging jobsites not always conducive for the larger machines on the market," says Chris Thompson, Ditch Witch product manager for compact equipment. "The SK600 is designed specifically for projects that require operators to work in tight environments and hard-to-reach places, without sacrificing durability and the power required for many landscape tasks."
Read the full story here.
At its year-end press event, Caterpillar announced updates to its M-Series medium wheel loaders. Cat says the upgrades, which are consistent with its recent trend toward short-cycle rollouts of new features, tackle not only machine-specific productivity, but overall site productivity as well.
The updates apply to the 950M, 966M, 972M, 966M XE, 972M XE, 980M, and 982M.
The 2017 update focuses on optimizing customer profitability and enhancing job site safety, as well as improving operator comfort and serviceability, says Jason Hagedorn, product application specialist. "We are focusing really heavily on technology and making use of a world of data that is coming from our machines from on board sensors, etc.," he adds. "We truly wanted to make use of all the information coming from the machine."
Read the full story here.