At its year-end press event, Caterpillar announced updates to its M-Series medium wheel loaders. Cat says the upgrades, which are consistent with its recent trend toward short-cycle rollouts of new features, tackle not only machine-specific productivity, but overall site productivity as well.
The updates apply to the 950M, 966M, 972M, 966M XE, 972M XE, 980M, and 982M.
The 2017 update focuses on optimizing customer profitability and enhancing job site safety, as well as improving operator comfort and serviceability, says Jason Hagedorn, product application specialist. "We are focusing really heavily on technology and making use of a world of data that is coming from our machines from on board sensors, etc.," he adds. "We truly wanted to make use of all the information coming from the machine."
Advanced productivity
Cat Payload Technologies are designed to increase production and jobsite efficiency by ensuring haul vehicles are loaded to exact specifications, for full utilization of equipment and lower operating costs. For 2017, the capabilities of the Cat Production Measurement system have been expanded to include the Advanced Productivity app, an optional web-based tool available through VisionLink that helps operators visualize key performance indicators (KPI).
Through the use of application profiling—which shows what type of work the loader is doing—and cycle segmentation—which defines details such as how long the loader has been doing a task, how far it has traveled, how much fuel it has used, etc.—Advanced Productivity collects data from the machine's onboard sensor array and processes it through algorithms to determine what, where, when, and how the machine performs specific tasks.
Cat targets specific goals with Advanced Productivity, including allowing the operator to:
Save time collecting and processing job site productivity and fuel consumption data by automating data reporting remotely and wirelessly;
Enhance site management's effectiveness by automatically assimilating and presenting information in ways that help managers make more informed, quicker decisions;
Measure productivity and fuel consumption by machine and operator to view trends and increase productivity;
Enhance revenue gains and lower operating costs by realizing opportunities to better execute tasks; and
Enhance operators' competitive advantage by better resource utilization.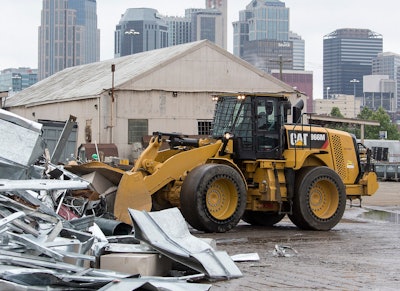 "Time, fear, and money are the three things that keep people from doing things in life," Hagedorn says. A streamlined approach is intended to remove those factors.
A Dashboard '6 pack' allows operators to select customizable display charts that highlight equipment information most important to their business. The visual display allows the operator to quickly understand the loader's production output. For more detailed insights, data on fuel consumption, transactional payload information, machine application and cycle segmentation data can be loaded into their databases.
The Advanced Productivity app uses the loader's onboard Cat Product Link cellular data radio, which is standard on most M series loaders, to provide reliable hourly updates without the need for additional telematics hardware.
"We can track trends, not just a moment in time," Hagedorn explains. "What we're looking at is not just machine efficiencies, but job site efficiencies." For example, a GPS map plot can show one or multiple machine cycles and can filter cycles to show activities such as loading, load and carry, roading, pile cleanup, waiting, engine off, and engine shutdown. Hagedorn says the maps can highlight inefficiencies in site configuration.
CPM 2.0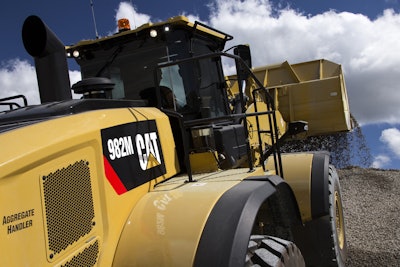 Cat also updated its Cat Production Management system with the M Series from CPM 1.2 to CPM 2.0. The system includes numerous updates to enhance operator and site management efficiencies, including increased data storage that allows the last 3,500 stored payloads to be saved in on-board memory. (Historical data can be accessed offboard through the Advanced Productivity app.)
Operators can add or delete list entries on the fly on the touchscreen display. Alternatively, with the Advanced Productivity app, site management can wirelessly update material and truck IDs through the VisionLink interface to an entire fleet. For operators who require only basic payload features, a newly added basic payload mode hides more advanced features to simplify the payload screen; displaying only the essential information and controls required to ensure the truck is not overloaded nor under loaded. Users can toggle from one interface to the other through the settings menu.
A new Operator ID functionality is standard on all medium wheel loader models and enables site managers to tag payload, fuel consumption, and machine application data by operator name, helping customers identify the most efficient operators. By doing so, site managers could reward operators to reinforce best practices or identify opportunities for operator training to enhance site efficiency when needed.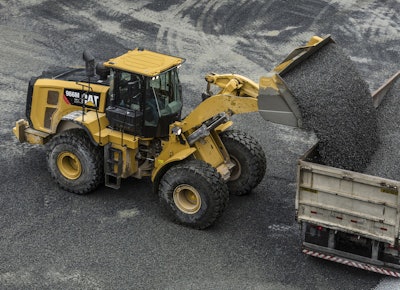 XE Update
Cat says the 966M XE and 972M XE offer a fuel efficiency advantage of up to 25 to 33 percent over a conventional power shift machine. A second generation XE Economy Mode achieves an improvement of 6 percent in overall fuel consumption compared to its predecessor; 15 percent in long load and carry on grade and 7 percent in short load and carry on level ground.
The reduced fuel consumption is achieved through a power management strategy which reduces the engine rpm to 1,200 to 1,400 rpm thresholds based on performance needs, while also achieving lower sound levels in economy mode.
"Despite fuel costs coming down, it's not just early technology adopters who opt for this model," Hagedorn says, noting that it is often an application specific decision with high-hour applications being the most likely to offer a quick return on investment.
Cat Autolube
The new Cat Autolube system simplifies maintenance and service needs, reducing machine downtime. The system includes a ground level fill point and serviceable hoses which are fully integrated into the machine's electronic architecture through both the touchscreen display and VisionLink telematics that indicate reservoir fill level and service fault code needs.
Lighting and DEF Fill Indicator
LED lighting at the left rear of the cab provides illumination of the platform, steps, and ground in low light conditions. The light activates when the battery disconnect is on, the key is off, and the cab door opens. It remains on for two minutes before auto shutoff.
In addition, four LED lights streamline daily maintenance by covering the left-side cooling package, right-side cooling package, transmission site glass, and coolant tank. This set of lights is activated by a switch under the left platform and deactivates after 30 minutes to protect battery life.
A unique double beep of the back-up alarm indicates that the DEF fill level is at 90 percent.
Seat and seat cover
For operator comfort, a new deluxe seat features leather inserts and headrest and two-level heat and ventilation in both the seat and seatback. A lumbar support adjustment also heightens comfort. "This is the operator's office," Hagedorn says. A removable and washable seat cover is also available to protect the seat from wear and tear and to keep the cab in like-new condition for resale value.