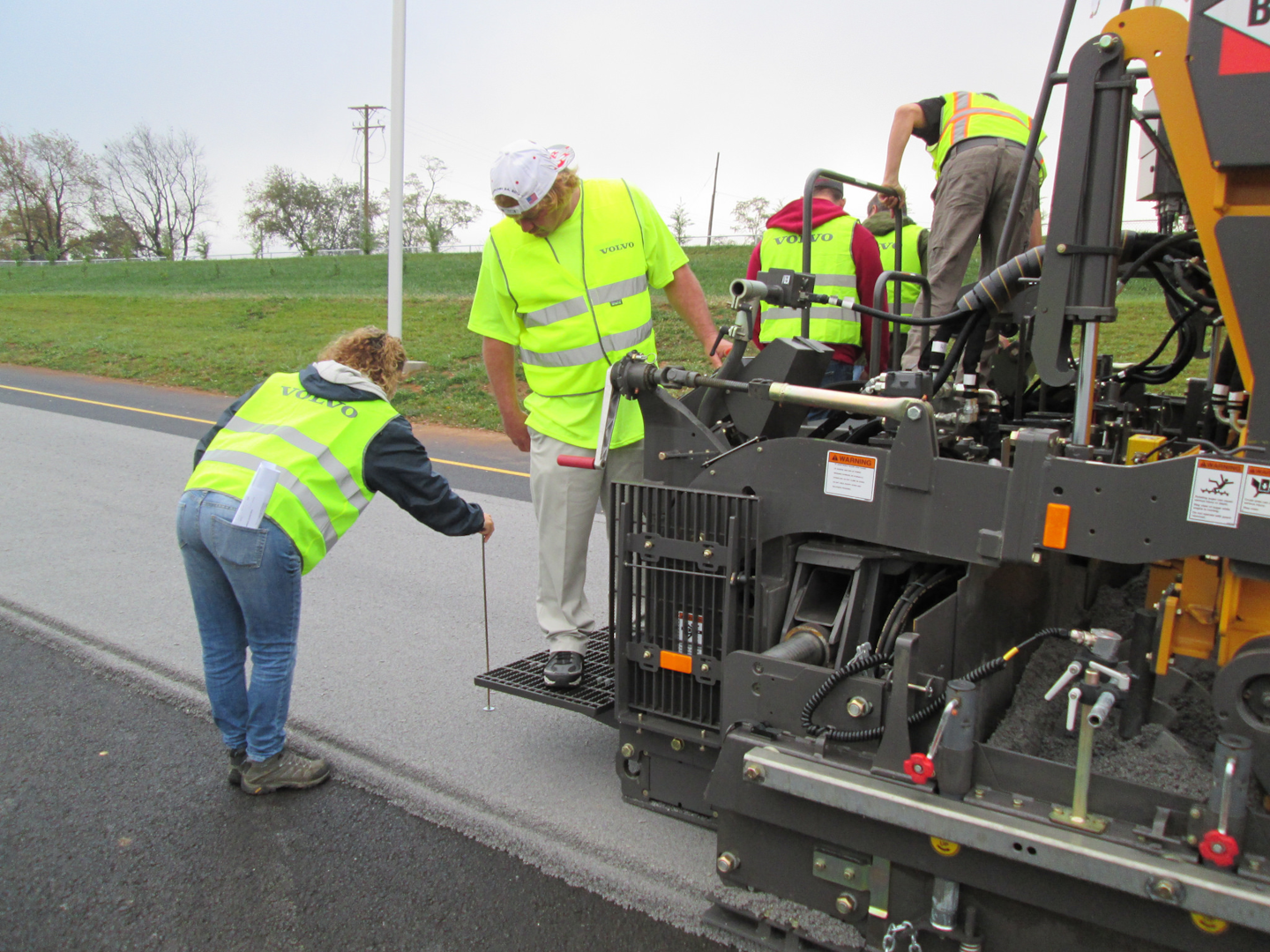 Volvo Construction Equipment is offering 34 courses in 13 categories as part of its 2015-2016 Road Institute between September 2015 and May 2016 at locations in Phoenix and Chambersburg and Shippensburg, Pennsylvania. The program is now in its 50th year.
"Today's pavers and asphalt compactors are more technical and precise than ever before," says Wayne Tomlinson,
compaction training specialist, Road Institute. "Road Institute aims to teach contractors best practices — regardless of the brand of equipment they operate — so they can be equipped to make smart decisions on the job."
Volvo CE says the courses, which combine classroom and hands-on experience, cover operation, application, maintenance, mechanics, and for the first time the company's intelligent compaction with Density Direct. Courses focusing on paving and compacting operation meet the National Asphalt Pavement Association Diamond Paving Commendation requirements.
The company recommends early registration due to class size limitations, and it offers a 25 percent discount on registrations made prior to Sept. 30 for classes between September and December 2015.
Online registration is available here.

Course schedule:
Automatic Grade and Slope Systems
Dec. 15 – 17, 2015, Phoenix
Jan. 19 – 21, 2016, Chambersburg, Pennsylvania
Mar. 1 – 3, 2016, Phoenix
Large Asphalt Compactor Mechanics (Step 1)
Nov. 17 – 19, 2015, Chambersburg, Pennsylvania
Jan. 12 – 14, 2016, Chambersburg, Pennsylvania
Mar. 8 – 10, 2016, Chambersburg, Pennsylvania
Paver and Compactor Operation and Maintenance
Oct. 20 – 23, 2015, Shippensburg, Pennsylvania (B-K)
Nov. 3 – 6, 2015, Phoenix (B-K)
Nov. 17 – 20, 2015, Phoenix (B-K)(WMA)
Dec. 8 – 11, 2015, Phoenix (Topcon)
Jan. 12 – 15, 2016, Phoenix (B-K)(WMA)
Jan. 26 – 29, 2016, Phoenix (B-K)
Feb. 16 – 19, 2016, Phoenix, Az.(B-K)(WMA)
Feb. 23 – 26, 2016, Phoenix (B-K)
Mar. 8 – 11, 2016, Phoenix (B-K)(WMA)
Mar. 29 – Apr. 1, 2016, Phoenix (B-K)
Apr. 19 – 22, 2016, Shippensburg, Pennsylvania (Topcon)(WMA)
Apr. 26 – 29, 2016, Phoenix (B-K)
May 10 – 13, 2016, Phoenix (B-K)
Paver Hydraulic and Electrical Systems – Blaw-Knox® Pavers (Step 1)
Sep. 14 – 18, 2015, Chambersburg, Pennsylvania
Paver Hydraulic and Electrical Systems – PF6000-Series Pavers     (Step 1)
Sep. 21 – 25, 2015, Chambersburg, Pennsylvania
Paver Hydraulic and Electrical Systems – PF6000-Series Pavers     (Step 2)
Oct. 6 – 8, 2015, Chambersburg, Pennsylvania
Paver Hydraulic and Electrical Systems – P7000-Series Pavers (Step 1)
Oct. 12 – 16, 2015, Chambersburg, Pennsylvania
Jan. 4 – 8, 2016, Chambersburg, Pennsylvania
Feb. 1– 5, 2016, Phoenix
Paver Hydraulic and Electrical Systems – P7000-Series Pavers (Step 2)
Mar. 15 – 18, 2016, Chambersburg, Pennsylvania
Paver Screed Operation and Adjustment
Nov. 10 – 12, 2015, Chambersburg, Pennsylvania
Feb. 9 – 11, 2016, Chambersburg, Pennsylvania
Apr. 5 – 7, 2016, Phoenix
Paving and Compaction Application Seminar
Apr. 12 – 13, 2016, Shippensburg, Pennsylvania
Small Asphalt Compactor Mechanics
Mar. 22 – 24, 2016, Chambersburg, Pennsylvania
Soil Compaction Application Seminar
May 17 – 18, 2016, Chambersburg, Pennsylvania
Soil Compactor Mechanics (Step 1)
Dec. 8 – 10, 2015, Chambersburg, Pennsylvania
Feb. 16 – 18, 2016, Chambersburg, Pennsylvania