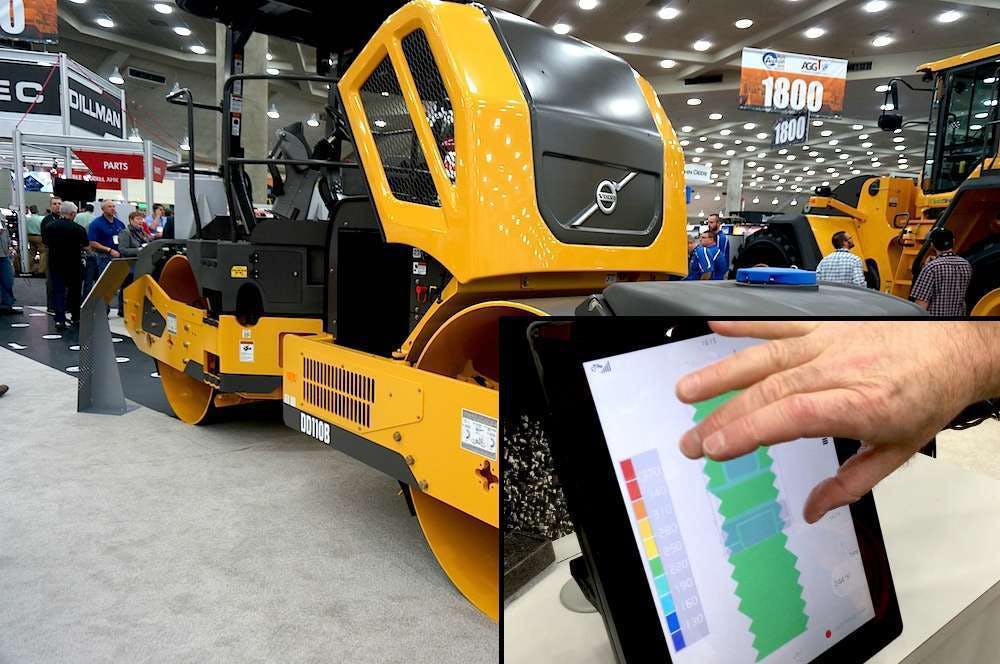 Volvo Construction Equipment today introduced the industry's first intelligent compaction (IC) system that measures density in real time at the World of Asphalt show in Baltimore.
Dubbed Density Direct, the Android-based system's user interface features a 10-inch touch screen with multitouch capabilities much like a smart phone or tablet that operators should find familiar.
Joe Petracone, with Massachusetts-based Palmer Paving, was able to test the system for Volvo over the course of a few days. Compared to another IC system he regularly uses, he particularly liked the screen size and multitouch features.
The Density Direct interface displays a map with color-coded density readings in addition to the numerical reading for density, the number of passes, and temperature. Volvo said that when fully calibrated, the density calculations have been shown to be accurate to with in 1.5 percent of the measured value of core samples.
The density mapping the system provides is a departure from other intelligent compaction in that it doesn't focus on a stiffness value, which is subject to many variables that affect accuracy, said Fares Beainy, a Volvo CE research engineer.
Beainy explained that the system uses the same sensor as other compaction systems, an accelerometer, to measure the acceleration of the drum, but it's Volvo's exclusive algorithm that allows the machine to output a density calculation based on the air void content of the pavement.
"You cannot measure (stiffness) in real time in the field," Beainy said. "Density is easier to understand by the operator. It's not for quality assurance, but for quality control," adding that stiffness does not provide "the true metric by which contractors are evaluated and paid."
The research and development of this system goes back 10 years Beainy said, and was developed through a partnership with Volvo, the Federal Highway Administration, and the University of Oklahoma. Beainy was previously a professor at the university and worked on the research prior to joining Volvo.
Volvo IC with Density Direct will be available in the fourth quarter of 2015 on the DD110B, DD120 B, and DD140B asphalt compactors available in North American, with plans for aftermarket retrofits to come later.