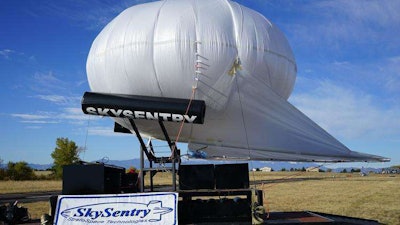 The Colorado Department of Transportation might get accused of having its head in the clouds with a new test it's trying out this week.
Well, the department is at least trying to get its eyes up there. CDOT's testing out a helium-filled blimp this week to monitor traffic, according to the Denver Business Journal.
The 1,600-cubic-foot "Tactically Expediat Aerostat" started a three-day test June 9 monitoring traffic patterns at Interstate 25 and 70th Avenue in Denver. The blimp is flying around the city at up to 400 feet in the air and to see how well it can carry the CDOT cameras and transmit information to the department's fiber optic network.
"We're testing and piloting all kinds of things," CDOT spokeswoman Amy Ford said. "This [test flight] is about the data and information we can get that we can share with the public."
You can see the blimp launch and land in the video below.
Taking to the sky with a blimp might not seem like the most efficient way to monitor traffic, but the technique could end up saving the CDOT quite a bit of money.
One blimp costs about $50,000, including the monitoring equipment. But it costs between $100,000 and $200,000 to install cameras onto poles.
Plus, the blimps probably give a better idea of what's actually happening on the roads below.
"We don't have cameras that can cover everything and they're limited by what they can cover — by height, location and where they can turn," Ford said. "If we can get higher, we may be able to get a clearer picture of the traffic environment and how it fits together."
Aerostats made by SkySentry LLC in Colorado Springs similar to the traffic blimp being used this week have been eyed for monitoring traffic in the past, but CODOT marks the first department to test out the camera-equipped blimps. SkySentry's fleet of aerostats have been used to support military operations in Afghanistan, monitor algae blooms above Lake Erie, film U.S. National Guard training exercises and monitor crops on farms.
The state has previously employed SkySentry aerostats to take pictures of rocks above the highways and find areas where rockslides are more likely.