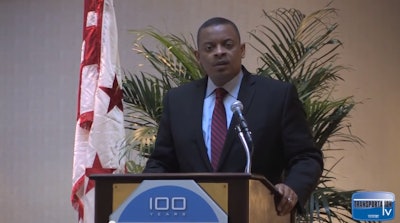 Transportation Secretary Anthony Foxx on Thursday said it is not enough to try to only stabilize the Highway Trust Fund (HTF).
Speaking at the 2014 American Association of State Highway and Transportation Officials (AASHTO) Washington Briefing, Foxx urged attendees to tell Congress to fix the Highway Trust Fund.
"We need your help reminding Congress that the most fiscally responsible thing to do is to get the Highway Trust Fund stabilized," Foxx said.
However, the DOT Secretary noted that simply stabilizing the HTF is not enough.
"We believe as an administration that we should do more than just stabilize the Highway Trust Fund," Foxx said. "We should put it on a course where there's more investment in infrastructure, more jobs being created, more pathways for these manufacturing jobs to be created in this country, and the free flow of goods around this country and getting people to work happens so that America can restore and renew its place as the preeminent transportation system in the world."
[youtube y6iw6-FzRaE nolink]
Foxx said America's competitors "are investing at deeper levels in infrastructure," noting that China spends twice as much as the U.S. does on infrastructure.
Despite spending shortfalls, Foxx said AASHTO and other industry leaders have helped created "the safest, most reliable efficient transportation system in the world.
"It's an advantage we can't take for granted, and that's the message we need to deliver to our Congress," Foxx said.
To get the message across, Foxx suggested industry professionals give lawmakers detailed explanations of what the looming insolvency of the HTF means for them and their communities.
"What projects aren't going to get done? How much will those projects cost if they're delayed a year or two? How many jobs are at stake? What opportunities are we missing? Those are questions you can describe in reals terms so that this issue isn't an abstraction," Foxx said.
He pointed to a McKinsey Group study that found that the same infrastructure already in the world could be achieved for 40 percent of what it cost. He compared that figure to the savings that could be achieved in the U.S. alone.
"Let's say we could get 20-percent savings," Foxx said. "If you look at MAP-21, that would have translated into $21 billion, which could be more projects getting done around the country."
Noting the Tappan Zee Bridge project in which the permitting process was reduced from up to four years to 15 months, Foxx urged attendees to continue to think innovatively to create efficient solutions in addition to pushing for funding solutions.
"If we do that — if you do that — we're going to squeeze greater capacity out of the dollars that are flowing into transportation, we're going to get more projects done, we're going to strengthen our case for the revenues that are necessary to keep this country in first place," Foxx said.
To see Foxx's entire speech, watch the included video.