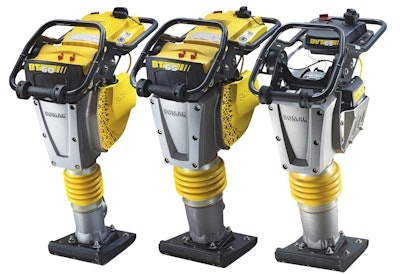 Bomag has introduced a new line of vibratory tampers, which have low operating weights and can perform compaction jobs.
The vibratory tampers can be used for highway patching in which a roller would be too large or for soil or backfill compaction in tight areas.
The company offers three models in the new line: the BT60, BT65 and BVT65.
The BT60, designed for use in confined spaces, weighs 128 pounds and delivers up to 3,372 pounds of impact force, while the BT65, created for high compaction demands, weighs 150 pounds and delivers 3,822 pounds of impact force. The BVT65 is designed for occasional use in typical applications, weighs 143 pounds and delivers 3,597 pounds of impact force.
The BT60 has a 9-inch standard operating width, while the BT65 and BVT65 each have an operating width of 11 inches. Four interchangeable shoe sizes (6, 9, 11 and 13 inches) are available as optional equipment. Additionally, optional 15-inch-tall tamper shoe extensions with 4- and 6-inch working widths are available.
The BT60 and BT65 models include dual air and fuel filter systems and an hour tachometer with integrated service indicator, while the BVT65 has a single air filter and is offered with an optional hour tachometer with integrated service indicator.
All models come with a cover and guards for engine protection, a low oil alert system, an easily accessible engine shutdown switch, splash oil lubrication, a high-strength polyethylene tamping shoe with steel wear plate and a corrosion-free plastic fuel tank.
Each tamper also features a height adjustable vibration-isolated steering handle for operator safety and ergonomics.