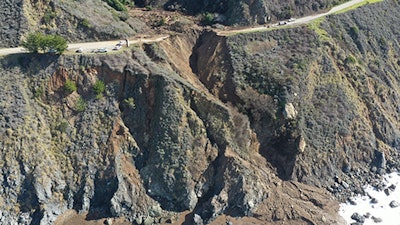 Caltrans
Less than three months after a mud and debris slide washed 150 feet of roadway into the Pacific Ocean, one of the most iconic, scenic drives in America has reopened.
On January 28, a storm in a burn scar area of Big Sur, California, washed away 70,000 cubic yards of dirt underneath Highway 1. Check out this drone video by the Monterey County Sheriff's Office of the slide:
Caltrans reports that since the slide, crews have been working seven days a week to reopen the section of the famous oceanview drive that winds its way along coastal cliffs. The project to restore the highway required 45,000 cubic yards of fill dirt to be hauled in and compacted, and a new asphalt section built on top.
The reopening occurred more than two months ahead of schedule, according to the California Asphalt Pavement Association.
"Caltrans, alongside our construction crews, worked intrepidly toward innovative solutions, which overcame numerous environmental, archaeological and engineering constraints to make this repair possible in record time," Jason Papich told CalAPA. Papich is the president of Papich Construction, the prime contractor on the project.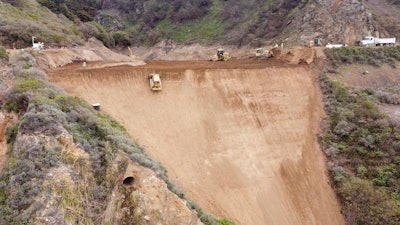 Construction still remains for the roadway. Caltrans plans to tunnel under the highway to install a 10-foot-diameter, 1-inch-thick steel pipe for storm drainage to enter the ocean. "This key piece of infrastructure will substantially improve water flow capacity during future storm events," Caltrans says.
The large pipe will join three other culverts already installed under the highway, closer to grade, to improve water flow. Other remaining construction includes installing a permanent guardrail, building headwalls at the culvert inlets, final grading features and adding erosion control on both sides of the highway, Caltrans says. The total project is estimated to cost $11.5 million.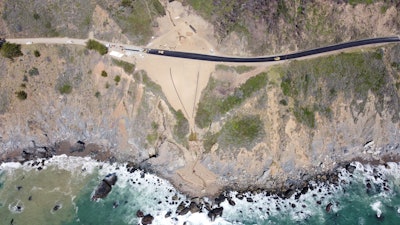 "There are few, if any, more iconic routes than Highway 1 – not just in California but anywhere in the world," said Governor Gavin Newsom at the April 23 reopening ceremony. "What this road means to the local economy, to the people of this region and to all Californians is invaluable."
"As we rebuild, we do so with the knowledge that the conditions that washed out this section of roadway will become more common in the future," he added. "We must fortify our infrastructure with climate resiliency in mind."
An even bigger mudslide – the largest in Big Sur's history – closed the highway in 2017 for over a year. At that time, 6 million cubic yards crashed down onto the road and into the ocean, creating 15 additional acres of coastline.