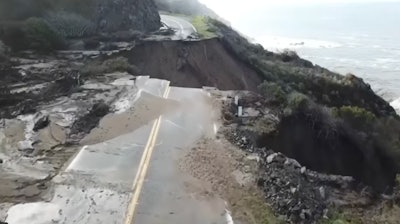 Credit: Monterey County Sheriff's Office
A large section of Highway 1 in the Big Sur region of California washed out during recent heavy rains in a burn scar area.
The drone video below was taken by the Monterey County Sheriff's Office following the washout:
The section of the famous ocean-view highway that winds along the mountainous coastline is within a burn scar area of the Dolan Fire, which began in August and has destroyed 125,000 acres. A debris flow from the rain overwhelmed the road's drainage system and led to the washout of the 150-foot road section, according to Caltrans.
Caltrans says it has entered a $5 million emergency contract with Papich Construction of San Luis Obispo County to assist with repair of the washout and is assessing the damage. Damage also included debris, flooded highway sections and fallen trees on the highway. Caltrans District 5 reports that all central coastal highways have been reopened following the rain damage except the section at Big Sur.