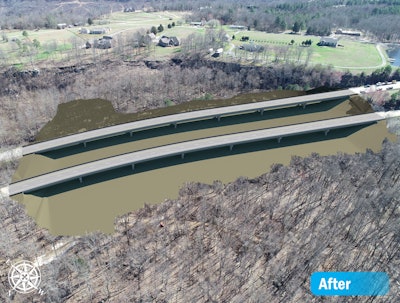 The Alabama Department of Transportation has decided to build two low bridges to replace a section of a main commuter highway to Huntsville that was damaged during heavy rains in February.
The state faced one of the wettest Februarys on record, which led to a large layer of subsurface dirt and rocks sliding underneath the road and causing large cracks and buckling. The bridges are estimated to cost $18 million and will likely take up to a year to open, although ALDOT officials hope to get them opened sooner.
Curtis Vincent, North Region ALDOT engineer, said the department will seek innovative and large incentives for the winning contractor to speed up the project. ALDOT recently awarded a $15 million bonus to contractor Johnson Brothers Corporation of Roanoke, Texas, for finishing the new bridges for Interstate 59/20 in Birmingham ahead of schedule.
During a public meeting in March, Vincent explained that building the bridges would be the simpler, faster, safer and least expensive way to reopen the 1,000-foot section. The two-lane bridges, one northbound and one southbound, will consist of seven 135-foot sections each. The bridges will be built close to the ground but with enough clearance to allow stormwater to move beneath them without impacting the structure, Vincent said.
The section of road saw 13,000 vehicle a day, and those drivers are now taking detours to get to and from Huntsville, which is about 7 miles away from the damaged road.
Vincent said the plan was to award the bid for the project on May 5 and construction to begin May 8.
The U.S. 231 project is the largest of the state's road fixes following floods caused by February's heavy rains. The state recently received a $5 million emergency grant from the U.S. Department of Transportation. The weather event caused an estimated $30 million of road damage in the state.
As of March 20, ALDOT planned to continue all of its construction projects and bid openings across the state and will keep its offices open during the coronavirus outbreak.