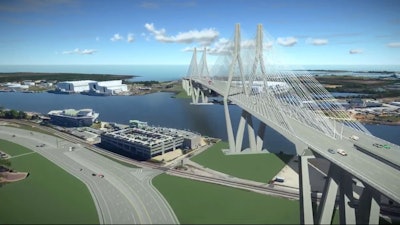 The Alabama Department of Transportation (ALDOT) released an updated animation and new renderings of the future $2 billion-plus Mobile River Bridge and Bayway expansion, along with the designs of seven interchanges for drivers to get on Interstate 10, two of which will be Diverging Diamond Interchanges, FOX 10 reports.
ALDOT plans to charge a toll for the new bridge, the Bayway, and the existing Wallace Tunnel, which will help pay for construction and maintenance of the bridge. Officials estimate the tolls will be $3 to $6, with frequent users receiving a discounted rate. Drivers who wish to avoid paying a toll will have to get off I-10 to use the Bankhead Tunnel or Cochrane–Africatown USA Bridge to cross the Mobile River, and use the Causeway to cross the bay.
Construction is expected to begin in 2020 and finish by 2025.