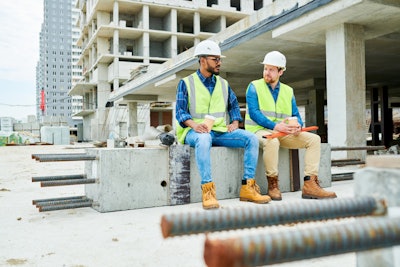 Boston's mayor has called a halt to construction projects in the city for 14 days in response to the coronavirus outbreak.
The announcement comes amid a construction boom in Boston, which has 33 reported cases of COVID-19. The Pennsylvania Department of Transportation has also suspended indefinitely construction projects it oversees. A day after Boston's announcement, Cambridge, Massachusett's mayor enacted a similar suspension of construction. However, so far, it appears that most of the country is proceeding with construction work.
Boston Mayor Marty Walsh said the construction freeze, which begins March 17, is needed to protect workers. Emergency projects are exempted but must first be approved by the city. Such exceptions include emergency utility, road and building work, such as gas and water leaks, sinkholes, projects for public health reasons, including shelters. Construction sites must be secured by March 23.
Here is Walsh's statement on the construction freeze:
"Effective tomorrow, Tuesday, March 17, 2020, the City is suspending all regular activity at construction sites in Boston. Employers should maintain the necessary crews to keep their sites safe and secure, keep any materials from blowing away, and prevent trespassing. This work needs to be completed in the next week, by Monday, March 23, 2020. After sites have been secured, skeleton crews will be permitted for the remainder of this suspension to ensure safety. The only work that will be permitted moving forward will be emergency work, which will need to be approved by the City of Boston's Inspectional Services Department."
AGC opposes construction halts
On the same day, the Associated General Contractors issued a statement opposing construction bans, saying they would do more harm than good. The association's CEO, Stephen Sandherr, said construction firms are already taking steps to halt the virus' spread.
Sandherr's statement is as follows:
"Halting construction activity will do more harm than good for construction workers, community residents and the economy. Construction firms are already acting to ensure the safety and health of their employees in the face of the coronavirus outbreak. These new measures, which include increased hygiene and halting group gatherings of staff, are in addition to the fact construction workers already wear protective equipment, including gloves that will help protect them and their co-workers.
"Given the precautions already in place, halting construction will do little to protect the health and safety of construction workers. But it will go a long way in undermining economic vitality by depriving millions of workers of the wages they will need over the coming days. At the same time, these measures have the potential to bankrupt many construction firms who have contractual obligations to stay on schedule or risk incurring significant financial penalties.
"In addition, halting construction projects will undermine ongoing, and future, recovery efforts in regions hit by natural disasters, and will also undermine any future efforts to expand hospital capacity.
"We understand the need for social distancing to help slow the spread of coronavirus. But needlessly shutting down projects where workers are already protected will not help. Instead it will threaten the livelihood of millions of craft professionals, force many small and family-owned businesses to shut down, and undermine the nation's ability to respond to natural disasters, including the coronavirus.
"In the unfortunate event construction is halted, we urge construction owners to consider continuing their scheduled payments to contractors as a down payment for work to be completed on the project. These payments will help mitigate some of the potential economic impacts of construction shutdowns."
Bill would require paid sick leave
Meanwhile, the U.S. House has passed an emergency bill for those affected by an economic downturn caused by the virus. That bill is now being considered in the Senate, where it is meeting opposition.
Among other things, the bill would require employers with fewer than 500 employees to provide 80 hours of paid sick time for employees who are off because of the virus, according to the ARTBA. Employers would have to offer the sick time within 15 days of the law taking effect. This would also be required for part-time workers. The sick leave would be in addition to paid sick leave the employer already provides.
Employers who end up paying the sick time because of the virus would receive a 100 percent tax credit.
Workers who take time off to care for a sick relative would receive two-thirds of their regular wage, under the bill. The bill would allow 12 weeks of such paid family leave.
The AGC opposes the measure, saying instead of a tax credit, the federal government should use the Social Security Administration or other agencies to provide direct assistance to workers. Leaving it to construction companies – 90 percent of which have 20 or fewer employees – would be too heavy a burden and could lead to cash-flow problems as well as "mass layoffs," the AGC said in a letter March 16 to Senate leaders.
Note: This story has been updated to include Cambridge's construction ban and that most areas of the country so far appear to be continuing ahead with construction work.