Contractors are choosing LED bulbs – and moving away from metal halide lights – more quickly than anticipated, say manufacturers of light towers. The result is brighter nighttime jobsites with more even light coverage.
And now, manufacturers are developing more efficient floodlights, by combining them with new energy systems such as lithium batteries. Atlas Copco, for example, is developing an energy-efficient, lithium-battery-powered light tower.
LED lights continue to grow in popularity because they offer about 50,000 hours of service life. Engineered with instant-on/off capability, the lights come on at full brightness almost instantly and can be turned off quickly, cooling immediately.
For example, Doosan Portable Power's new compact LCV light towers use LED lights, says Todd Howe, product manager for lights and generators.
The newest models – the LCV6 and LCV8 – have a 52-gallon diesel fuel tank with the longest runtime in the industry for greater overall productivity. The LCV6 is six kilowatts; the LCV8 is 8 kilowatts.
"The LED lighting is extremely fuel efficient, which extends the runtime of the unit in between fueling up to four days of continuous operation," Howe says. "The lighting is glare-free, which makes it perfect for use at roadsides where the protection of drivers going by is important."
This heavy-duty unit, which offers good on- and off-road towability, is frequently used in road construction, other infrastructure projects and rental applications, Howe says.
At World of Concrete, Atlas Copco launched three new electric plug-and-light LED light towers to the U.S. market.
Geared for construction and roadwork, the HiLight V2+ and HiLight V3+ are on a four-wheel trailer for ease of transportation. Both compact models come with a heavy-duty steel frame, stainless-steel mast and polyethylene bumpers.
"Our new HiLight towers are designed to help workers experience a brighter, safer environment that will enhance their productivity," says Angel Nieto, Atlas Copco product manager of power and light.
The HiLight P2+, V2+ and V3+ light towers can be powered from an auxiliary power source, a portable generator or the grid.
The HiLight V2+ offers a 320-watt LED light source that covers 21,528 square feet. The HiLight V3+ is equipped with four 160-watt LED bulbs with specially designed directional glass optics capable of illuminating an area of up to 32,292 square feet.
Both the V2+ and V3+ have manually operated vertical masts that extend up to 18 feet. The towers are designed to withstand wind speeds up to 51 mph, the company says.
Suitable for almost any application, the HiLight P2+ features the same special lighting optic as the HiLight V2+.
The floodlight provides 360-degree coverage across a 21,528-square-foot illumination area, which is a much greater area compared to traditional balloon style light towers, according to Atlas Copco. The light source is housed within a weatherproof cylindrical polyethylene housing with built-in cooling for no burnout and a longer operating lifetime. The housing does not require air pressure or complicated mechanisms to operate.
The entire HiLight P2+ assembly weighs just 99 pounds, yet is strong enough to withstand wind speeds up to 32 mph. The manually elevated vertical mast provides a maximum operating height of 11 feet.
The LED lamps on all three new models are expected to last more than 30,000 hours.
LED lighting: high rental return on invested capital.

This year, Genie, a Terex brand, unveiled its RL-4 LED gas-powered light tower as a fully featured, towable, self-powered model with clean, quiet operation. It delivers precision lighting performance rivaling the diesel, metal halide units, the company says.
A 3,500-watt generator powers the four LED lights, and it also leaves about 2,000 watts of "convenience power" for tools, accessories, peripherals, or even two more LED light towers, according to Adam Hailey of Genie.
The light tower is compact enough for 17 of them to fit on a truck, a key selling point to rental operations, Hailey says. It runs for 80 hours on a single tank of fuel and has an efficient, low-maintenance gas invertor generator, he adds.
Another option for maximum worksite lighting is the gas-powered Genie Terex AL-5 HT, which features a hydraulic articulating tower with the option for up to 8,000 watts of light.
Josh Taylor, Genie product manager, Terex AWP, says that durable, reliable and cost-effective LED lighting is now available in North American rental markets.
"Thanks to the LED light modules' extended lifespans, lower energy consumption and lower maintenance requirements, this type of light tower is in high demand to use on construction sites, as well as in nontraditional rental applications," Taylor says. "And it is competitively priced against traditional units, so our customers will get all the benefits of this innovative technology while also realizing a high rental return on invested capital."
At the American Rental Association Show in New Orleans this past February, Chicago Pneumatic Power Technique (CP) featured an LED light tower designed to last and be easily transported in urban construction, road construction and other work areas.
The CPLT E3 LED electric light tower joins a growing LED light tower lineup, including the CPLT P2, CPLT V2 and CPLT V3.
It has exceptional plug-and-light capabilities, the company says, by connecting to any external power supply; up to three CPLT E3 LEDs can be daisy-chained together. The four 160-watt LED bulbs have an expected lifespan of 30,000 hours and cover more than 32,000 square feet. Its heavy-duty mast can be raised to 23 feet.
Delivering energy efficiency
Generac Mobile Products officials say engineering the next generation of light towers is all about delivering energy efficiency while ensuring durability in extreme conditions.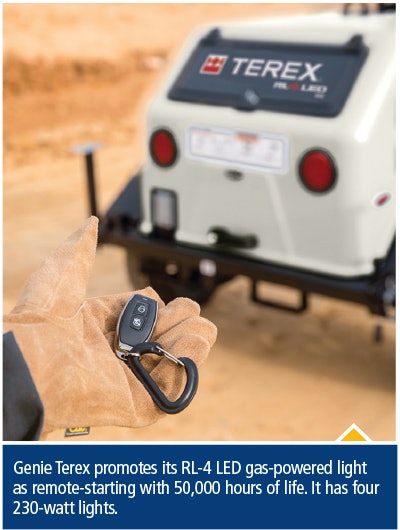 The Generac Magnum MLT6 series compact mobile light towers provide low maintenance and reliable lighting, the company says. Large fuel capacity and the 750-hour service interval mean more uptime and lower labor costs. The new, improved MLT6SMD LED light tower now provides more than twice the luminosity than metal halide bulbs. Designed to deliver bright and even light coverage, the new LED fixtures outperform metal halide bulbs in durability, longevity and efficiency, allowing for an extended runtime of up to 205 hours.
The company's MLT4060MVD light tower, designed for extreme or remote jobsites, is engineered to deliver long-lasting lighting with minimum power consumption.
The MLT4060MVD comes with four Generac 240 W LED light fixtures and an extended-run ECOSpeed engine. The variable-speed engine can be easily controlled on multiple speed settings, creating better fuel efficiency, and provides up to 580 hours of runtime, company officials say.
A temperature management system is built into the ECOSpeed engine design to keep the engine running smoothly while managing loads in temperatures ranging from 40 below zero to 120 degrees Fahrenheit.
Generac says it wanted to build a light tower that was easy to operate and refuel and would function well in extreme conditions. Longer service intervals, another key for customers, will benefit rental businesses especially.
The Generac Magnum Power Zone Autolight Controller features automatic start/stop and dusk-to-dawn photo sensor operation.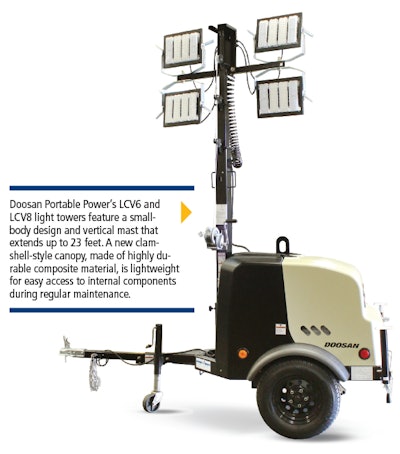 The four 240 W LED light fixtures featured on the MLT4060MVD are waterproof, durable and create energy efficient light that consumes minimal power. Atop a mast with a maximum height of 23 feet, the light fixtures have a combined total output of 88,000 lumens. The tower also offers a rust-resistant, powder-coated aluminum enclosure, 359-degree mast rotation and an extended 750-hour service interval.
Larson Electronics has just released a 60-watt adjustable pole LED lighting solution for use in rugged and outdoor operations, and it's waterproof as well as vapor proof. The two-lamp LED fixture emits 10,800 lumens of high output illumination. A telescoping pole mount can be adjusted between 3 to 8 1/2 feet on this light, the TPM-2XWP60E-25C.
The adjustable pole features a pneumatic braking system preventing unexpected or sudden collapsing, so if an operator chooses to mount heavier fixtures, the pole will slide down slowly and gently once the locking tabs are released, the company says.
"It provides the elevated illumination benefits of having a light mast but without the actual mast, making setup and takedown simple and fast," says Larson CEO Rob Bresnahan in a press release.
Light balloons useful for night highway work
Wacker Neuson's offerings include not only a selection of light towers and mobile generators, but also the LBA 110M light balloon, which diffuses light and is particularly useful for night highway construction. It can be quickly and easily attached to a paver, for example.
The light balloon has a simple construction, with a light point height of 16.4 feet. The elliptical-shaped map shade, with the 1000-watt metal halide lamp, emits maximum brightness with no glare. And that, Wacker Neuson says, makes it ideal for road work, special events, concrete pours and general jobsite illumination.
The LBA 110M is a fully functional light balloon constructed from a special foldable, durable material. It doesn't need to be blown up, and it's held open by metal supports.
In addition, the Wacker Neuson LBS 110M model is a single-step mechanical balloon setup that increases uptime and eliminates noisy fans for inflation. A single 1,000-watt metal halide lamp is securely fastened in the socket to prevent damage during transport.