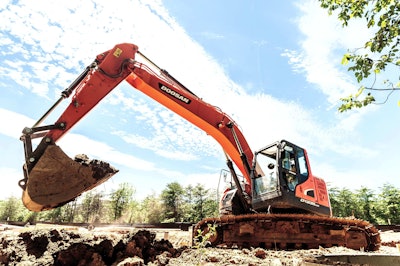 Doosan Infracore North America has named its top performing equipment dealers of 2017.
"Our top Doosan dealers set the bar for the entire dealer organization," says Todd Roecker, Doosan Director of Dealer Management and Marketing. "To achieve this recognition, these top-performing Doosan dealers performed at high levels in terms of sales, parts and service capabilities, in their respective markets."
The top 2017 Doosan dealers :
• Equipment East (Dracut, Massachusetts)
• Venture Drilling Supply (Pflugerville, Texas)
• Bobcat of Omaha (Omaha, Nebraska)
• Ironhide Equipment (Grand Forks, North Dakota)
• Texas Timberjack (Lufkin, Texas)
• Cascade Trader (Chehalis, Washington)
• Gateway Bobcat of Missouri (Valley Park, Missouri)
• Feenaughty Machinery Company (Portland, Oregon)
• RGW Equipment (Livermore, California)
• Barry Equipment (Webster, Massachusetts)
Participants from the 10 top Doosan dealerships won a trip to Scotland later this year, where they will sight see and attend The British Open golf tournament.
Representatives from the top 10 Doosan dealers earned a spot on the Doosan Dealer Advisory Council, a group of individuals that serve as a resource for Doosan Infracore North America and provide feedback to the Doosan leadership team.