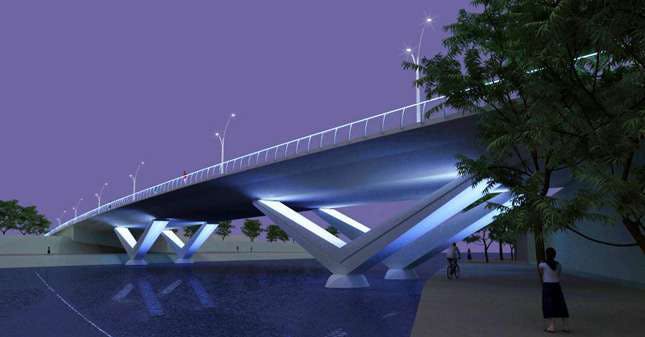 The city of Fort Worth, Texas, says work is progressing on the Panther Island project's three V-pier bridges being built over the Trinity River bypass channel to realign the river. The project is a collaboration between the Texas Department of Transportation (TxDOT), the Trinity River Vision Authority, the city of Fort Worth, the North Central Texas Council of Governments, the U.S. Army Corps of Engineers, and Tarrant County.
The contractor, Texas Sterling, has completed all eight of the V-piers on White Settlement Road Bridge, and construction of the superstructure is underway. Steel cages are being constructed on all of the V-pier structures on the Henderson Street Bridge, and the first concrete pour is scheduled for late summer 2018. Abutments, drill shafts and pier columns have been completed on the North Main Street Bridge. The V-pier structures and steel caging will be built over the next few months to make way for the first concrete pour.
Architect Miguel Rosales, along with Freese and Nichols Inc., designed the V-pier structure, which mirrors structures in Fort Worth's Cultural District. The V-pier design is said to provide better bridge support with fewer piers, which means using less concrete.
All three bridges are scheduled for completion in 2020.