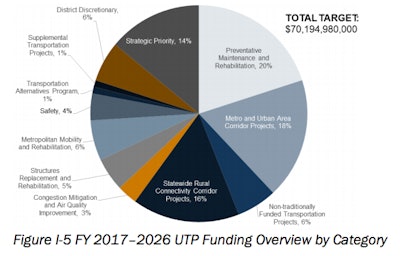 The Texas Transportation Commission has approved the Texas Department of Transportation's (TxDOT) 2017 Unified Transportation Program (UTP) that includes $70.19 billion in projects over a 10-year period.
The 2017 UTP is more than double the previous plan that included roughly $33 billion in projects.
"The Unified Transportation Program reflects TxDOT's commitment to planning for and meeting the mobility needs of our fast-growing state," says Transportation Commission Chairman Tryon Lewis.
TxDOT says the plan aims to reduce traffic congestion in the most densely populated areas of the state and provides projects that will provide improved access to major interstates from rural areas via local roads and highways.
The largest segment of the plan covers preventative maintenance and rehabilitation, with $13.78 billion planned. This is followed by metro and urban area corridor projects ($12.54 billion), statewide rural connectivity corridor projects ($11.63 billion), strategic priority projects ($9.83 billion), non-traditionally funded transportation projects ($4.57 billion), metropolitan mobility and rehabilitation ($4.23 billion), district discretionary ($3.98 billion), structures replacement and rehabilitation ($3.22 billion), safety ($3.18 billion) and congestion mitigation and air quality improvement ($2.17 billion).
"The actions today by the Texas Transportation Commission represent a historic investment in our state's infrastructure," says Gov. Greg Abbott. "Texans have sent a loud and clear message that they are tired of sitting in traffic, and this funding plan will significantly address safety, maintenance, connectivity and congestion on our crowded highways. The plan presented by the commission will allow Texas roads to keep pace with our population growth, provide much-needed congestion relief for working Texans and put the Lone Star State well on its way towards having a first-in-class highway system for decades to come."
Details on the Texas UTPs are available here and the 2017 plan is available here.