The National Asphalt Pavement Association (NAPA) has named two winners of its 2017 Asphalt Operations Safety Innovation Award: the Lane Construction Corporation in West Columbia, South Carolina, and Superior Paving Corporation of Gainesville, Virginia.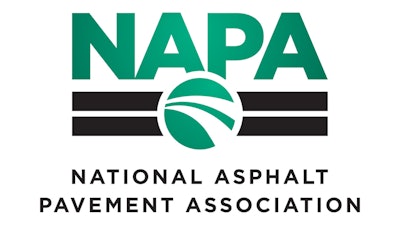 The Asphalt Operations Safety Innovation Award recognizes the development and implementation of innovative ideas that lead to improved worker safety in a roadway work zone, plant site, or quarry environment, and companies whose safety practices go above and beyond normal safety practices.
"NAPA members strive for excellence in constructing high-quality asphalt pavements and in every aspect of their operations," says NAPA Chairman Craig Parker.
"The five Operational Excellence Awards categories — Asphalt Operations Safety Innovation, Community Involvement, Ecological, Outstanding Brochure, and Outstanding Website — recognize a company's commitment to operational practices that make them good contractors, good industry ambassadors, and good neighbors," Parker says.
Cones for Life
The Lane Construction Corp. in South Carolina was honored as a winner of the 2017 award for its Cones for Life overhead hazard awareness program.
The program includes a specialized training program to educate every crew in the Carolinas on overhead threats, procedures to follow to prevent injury, and emergency response procedures in the event a crew member comes in contact with high-voltage electricity. As part of the program, Lane deployed high-visibility lime green construction cones to alert crews to overhead hazards, too.
"By choosing a different color safety cone, we hope the cones will grab the attention of work crews and ensure they acknowledge the hazard," says Lane Senior Safety Supervisor for North Carolina Rusty McElroy. "I saw that certain long-duration projects use these bright green signs and the green color helped make sure the sign was noticed."
EPIC Safety
Superior Paving Corp. of Gainesville, Va., won for its Entry Prevention Interactive Control (EPIC) Safety System, which is designed to prevent crew members from walking between the paver and a mix-transfer vehicle (MTV).
Walking beneath the loading conveyor on an MTV is both a safety hazard and can disrupt the infrared connection between the MTV and the paver. The EPIC Safety System is a retractable 65-foot-long, 4-inch-wide tape that mounts to the MTV. A powerful magnet connects the extended tape to the paver, creating a physical barrier that limits entry to the space between the MTV and the paver.
"At Superior Paving, we do our best to identify potential hazards and develop safety procedures and solutions before an injury can occur," Superior Paving President James Mitchell says. "The EPIC Safety System is a great product that is highly effective. We've been using it for a year, and it continues to be used on a consistent basis."
The companies were recognized at a special ceremony on July 9 during the association's Midyear Meeting in Boston.
The Operational Excellence Awards honor leaders in the asphalt pavement industry for innovation and excellence in marketing, communications, and community outreach with the Community Involvement, Outstanding Brochure, and Outstanding Website Awards. Companies also are lauded for their responsible practices with the Asphalt Operations Safety Innovations and Ecological Awards.
The Operational Excellence Awards are a counterpart to NAPA's annual Quality in Construction Awards, which recognize asphalt paving jobs completed in line with best practices and standards known to yield high-quality asphalt pavements.
The NAPA Awards Program recognizes and encourages continuous improvement in all aspects of paving and asphalt operations. The 2018 NAPA Awards program is accepting nominations. Quality in Construction Award nominations and Operational Excellence Award nominations are due by Oct. 4.
For more information about the NAPA Awards program, or to nominate a project or company for an award, visit www.AsphaltPavement.org/Awards.