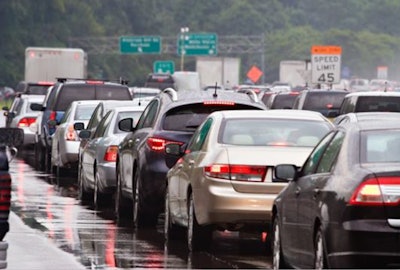 More than 41.5 million Americans will travel this Memorial Day weekend, nearly 5 percent more than last year and the most in more than a dozen years, according to AAA.
Delays on major roads could be up to three times longer than normal, with the busiest days being Thursday and Friday (May 24-25) as commuters mix with holiday travelers.
"The highest gas prices since 2014 won't keep travelers home this Memorial Day weekend," says Bill Sutherland, senior vice president, AAA Travel and Publishing. "A strong economy and growing consumer confidence are giving Americans all the motivation they need to kick off what we expect to be a busy summer travel season with a Memorial Day getaway."
To compile this forecast, AAA turned to INRIX, a global transportation company that specializes in connected car services and transportation analytics.
AAA forecasts these statistics for the holiday weekend:
Automobiles: The vast majority of travelers – 36.6 million – will hit the road this Memorial Day, which is t 4.7 percent more than last year.
Planes: 1 million people will travel by air, a 6.8 percent increase and the fifth year of consecutive air travel volume increases.
Trains, Buses and Cruise Ships: Travel across these sectors will increase by 2.4 percent to 1.8 million passengers.
INRIX, in collaboration with AAA, predicts drivers will experience the greatest amount of congestion on Thursday, May 24 and Friday, May 25, especially in the late afternoon as commuters leave work early and mix with holiday travelers.
Several major U.S. metros could experience double the travel times compared to a normal trip, while New Yorkers could see three times the delay, AAA says.
"Ranked the most congested country in the world, U.S. drivers are all too familiar with sitting in traffic," says Graham Cookson, chief economist and bead of research for INRIX.
"Drivers should expect congestion across a greater number of days than in previous years, with the getaway period starting on Wednesday, May 23. Our advice to drivers is to avoid peak commute times in major cities altogether – traveling late morning or early afternoon – or plan alternative routes."
Higher gas prices not deterring travelers
The 88 percent of travelers choosing to drive will pay the most expensive Memorial Day gas prices since 2014. Gas prices averaged $2.72 in April, an increase of 33 cents from last year, due to expensive crude oil, record gasoline demand and shrinking global supply.
However, these higher prices are not keeping holiday travelers home, with automobile travel expected to increase for the fourth straight year.
Before heading out on a road trip this Memorial Day, download the free AAA Mobile app for iPhone, iPad and Android. Travelers can use the app to map a route, find the lowest gas prices, access exclusive member discounts, make travel arrangements, request AAA roadside assistance, find AAA Approved Auto Repair facilities and more.
To see the complete AAA/IHS Markit 2018 Memorial Day holiday travel forecast, click here.