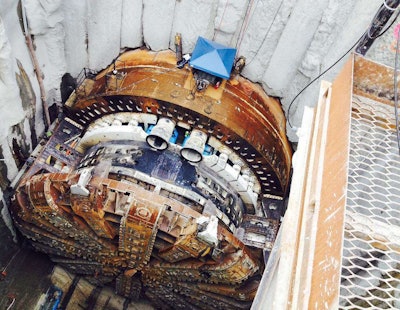 Following two years of costly repairs and downtime, Bertha, the world's largest tunnel boring machine, is $223 million over budget, with Washington state facing a lawsuit from the prime contractor on the State Route 99 tunnel project that, if successful, would double that amount.
According to a report from the Seattle Times, the 1.7-mile tunnel, which will replace the Alaskan Way Viaduct and carry a double deck highway, is now slated to open in early 2019—more than three years after the project's original projected end date.
Following nine weeks of problem-free drillingBertha recently started drilling again after several weeks of maintenance on the machine's cutting teeth. The machine is about one-third of the way through drilling the tunnel.
The Times reports the total cost of the project is expected to be $3.37 billion though that could rise if lawsuits against the state and the prime contractor related to the project are successful.
Seattle Tunnel Partners (STP), the primary contractor on the SR99 project, is suing the state for more than $200 million, claiming that an overlooked steel pipe left over from groundwater testing done by the state was the cause for the damage to Bertha that brought the machine down in January 2014.
Following the excavation of a 120-foot repair pit, the lift of the machine's massive cutterhead and the replacement of the machine's main bearing seals and some of its teeth, Bertha finally recovered from her two-year delay in December.
Another report from the Times details a lawsuit from Malcolm Drilling Company, the contractor that built the repair pit. Malcolm is suing STP for misrepresenting soil conditions, saying that it is owed $11 million for extra work. Malcolm's lawsuit claims a layer of seashells, voids in the soil near the surface, greater groundwater flows and pressures than expected and the sinkage of the viaduct and surrounding streets greatly increased the amount of work required for the repair pit.
Washington state transportation Sec. Rogar Millar tells the Times he isn't sure how the state's department of transportation will pay for the $223 million the project is now over budget, much less any extra should STP's lawsuit be successful. The Times reports he will ask state lawmakers for an extra "$60 million in the next two-year transportation budget, to keep enough cash flowing."
The Times reports it is likely all of this extra cost will be paid for "by the state's drivers in gas taxes, more transportation-fund debt, or by tolls and fees.'