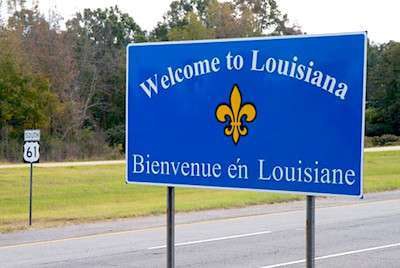 Louisiana has been awarded $60 million in a U.S. Department of Transportation FASTLANE grant to use toward adding lanes and replacing 15 miles of pavement on Interstate 10.
The state had applied for $100 million for the project in a submission in April. Officials say the total project cost will exceed $300 million.
"We are pleased to receive this innovative grant award and are prepared to deliver for the people of Louisiana," Louisiana Department of Transportation and Development Secretary Shawn Wilson says. "As we consider ways to invest in transportation infrastructure for Louisiana, this grant is a great first step to beginning that process."
This project covers an area between the I-10/I-49 interchange and the Atchafalaya Basin Bridge. Last year, the corridor carried 120 million tons of freight worth $204 billion, according to Gov. John Bel Edwards' office. So far this year, officials report more than a third of the vehicles traveling on this stretch of I-10 are related to freight.
"While we are extremely grateful that the federal government is making this investment in Louisiana, this award will make it possible to invest in infrastructure projects across the state of Louisiana," Edwards says. "From north Louisiana to south Louisiana – east to west – we have infrastructure needs that have been ignored for years. A robust Louisiana economy is dependent upon a strong infrastructure, and I am looking forward to getting projects underway across the state."
The state plans to use funds the grant frees up on projects such as construction of a new Washington Street off ramp in Baton Rouge, advancing the design of a reconstructed interchange at Loyola Avenue for the New Orleans Airport, improving railroad crossings on the freight-rail corridor between Baton Rouge and New Orleans and advancing design of the I-20/220 interchange into Barksdale.
The FASTLANE program was made possible by a provision in the FAST Act called the Nationally Significant Freight and Highway Projects program. This is designed to fund both small and large projects based on size and meeting certain requirements, and is authorized for $4.5 billion through 2020.
There is only $800 million available for the program for fiscal year 2016 and the USDOT received 212 applications valued at $9.8 billion earlier this year.