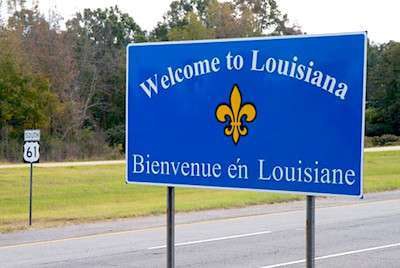 Louisiana Gov. John Bel Edwards and the Louisiana Department of Transportation and Development (LDOTD) have submitted a $100 million application for Interstate 10 pavement replacement to the U.S. Department of Transportation's Fostering Advancements in Shipping and Transportation for the Long-term Achievement of National Efficiencies (FASTLANE) grant program.
The FASTLANE program was made possible by a provision in the Fixing America's Surface Transportation (FAST) Act called the Nationally Significant Freight and Highway Projects program (NSFHP). This is designed to fund both small and large projects based on size and meeting certain requirements, and is authorized for $4.5 billion through 2020.
The program has $800 million available for fiscaly year 2016.
Louisiana's request would fund pavement replacement and lane additions to roughly 15 miles of I-10 between the I-10/I-49 interchange and the Atchafalaya Basin Bridge. The total project cost estimated is more approximately $300 million.
"Since taking office, I have met twice with the President, twice with the Vice President, and twice with the Secretary of the DOT," Edwards says. "We're committed to reengaging our federal partners to bring our tax dollars back to Louisiana to make the critical investments we need in our infrastructure. If we're awarded these grants, we will have the ability to free up additional state dollars to invest in other projects around the state. I am confident that Secretary Wilson has put together a strong package for Louisiana, and I hope the federal government will work with us to help fund these important projects."
Officials say more than 33 percent of all the vehicles traveling on this section of I-10 so far this year are related to freight. LDOTD estimates this traffic to grow by 55 percent in the near term, reaching a freight value of $435.3 million.
"Travel conditions on this corridor demand action, as it represents half of the worst conditions on all of Interstate 10 in Louisiana," says LDOTD Secretary Dr. Shawn Wilson. "Much of the road along the project area was last paved in the 1960s, resulting in poor pavement conditions today. We will work aggressively with our federal partners to bring funds back into Louisiana so our infrastructure can support our growing economy."