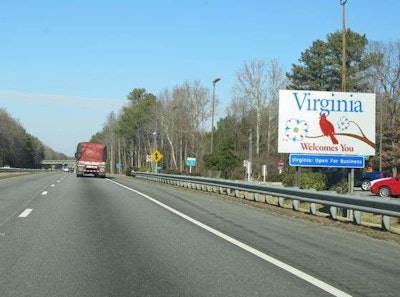 Virginia's Atlantic Gateway, an Interstate 95 and rail expansion project, has received a FASTLANE program from the U.S. Department of Transportation for $165 million.
The state's grant request had originally been for $200 million. Total resources for the project now come to $1.4 billion, according to the Virginia Department of Transportation (VDOT), including the grant, private investments of $565 million and $710 million in public funds.
The FASTLANE program was made possible by a provision in the FAST Act called the Nationally Significant Freight and Highway Projects program. This is designed to fund both small and large projects based on size and meeting certain requirements, and is authorized for $4.5 billion through 2020.
There is only $800 million available for the program for fiscal year 2016 and the USDOT received 212 applications valued at $9.8 billion earlier this year.
VDOT says portions of the "upfront" environmental and engineering work have either been completed or are currently in progress and construction could be as early as next year on some phases.
"Our team has worked for two years to develop the Atlantic Gateway project for consideration under the FASTLANE grant program," says VDOT Secretary Aubrey Layne. "Our selection is the result of support and cooperation from elected officials, local and regional leaders, chambers of commerce, the transportation industry, our private sector partners, and many others who clearly see the Atlantic Gateway project is absolutely essential to Northern Virginia and Virginia's long-term economic competitiveness. This grant will allow the Commonwealth to transform the 95 corridor into a true multimodal corridor that better manages traffic and increases travel choices for people and goods."
Gov. Terry McAuliffe last week took to the airwaves to tout the project's benefits and said June 29 on WTOP's "Ask the Governor" he expected to learn of the grant award within a few days.
"Winning this significant federal grant will allow Virginia to move forward on a project that will transform travel conditions and stimulate economic growth across our Commonwealth," McAuliffe says. "Our administration worked with federal, state, local and private sector parties to submit a package of transportation improvements that will have far-reaching benefits for everyone who travels the Commonwealth, whether by car, bus or train."
He adds the Atlantic Gateway will help "build a new Virginia economy" and will create numerous jobs.
Specific components of the project include:
Building 14 miles of new rail track to improve reliability and capacity for freight, commuter, and passenger rail service, including phase I of the project to unlock rail congestion at Long Bridge
Extending I-95 Express Lanes for seven miles north to the Potomac River and improve access to the Pentagon
Extending the I-95 Express Lanes 10 miles south to Fredericksburg to alleviate backups at the current southern terminus
Constructing a new southbound bridge on I-95 across the Rappahannock River
Providing dedicated on-going reinvestment in expanded bus service in the corridor to ensure that all populations have access to jobs, education and health care services
Adding new commuter parking, technology upgrades and truck parking along the corridor
Building pavement for autonomous vehicle enhancement; this will provide the infrastructure to test and deploy driverless cars
Acquiring the S-line, an abandoned rail corridor that runs from North Carolina to the Richmond area, from CSX to provide public ownership of a corridor key for future Southeast High Speed Rail.