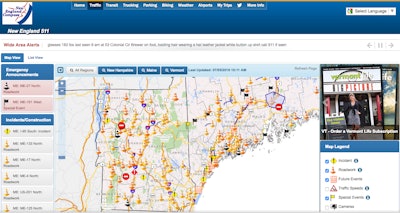 The state transportation agencies for Maine, New Hampshire and Vermont have launched New England Compass, a regional Advanced Traveler Information System to provide motorists in the area with road conditions and travel details.
"This is a big step forward," says New Hampshire Department of Transportation Commissioner Victoria Sheehan. "This new system combines the latest technology and information into one easy-to-use web portal."
The program will provide real-time information pulled from dispatchers, sensors, weather stations and traffic cameras. Visitors to the site can view details on road conditions, construction, weather, traffic incidents and special events to help plan trips. Users also can opt for text message or email alerts in all three states.
Travelers can sign up for the alerts at www.newengland511.org, and enter their daily commutes or planned trips across the three states for real-time updates and alerts.