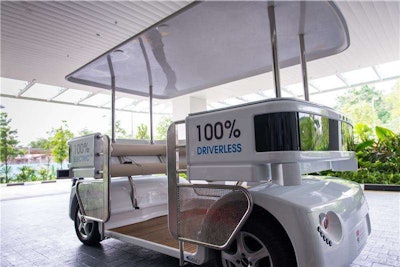 With all of the hype and doubt over the hyperloop idea, here's an example of a new form of transportation that is actually about to hit the roads.
Combining driverless and electric technology, a new Singapore shuttle transportation system will soon be taking passengers between the Nanyang Technological University (NTU) and JTC Corporation's CleanTech Park. The Induct Technologies' vehicle can carry eight passengers and travel up to 12.5 mph.
This form of transportation isn't as flashy as the idea of shooting through California at the speed of light, but it's real and will be in use soon. A driverless vehicle can prevent accidents caused by human error, and since it is electric, it will also limit emissions. The hopes are that this transport system will lead the way to autonomous vehicles in a larger transportation system.
Sounds like a clean, green, "it's-about-time" machine to me.