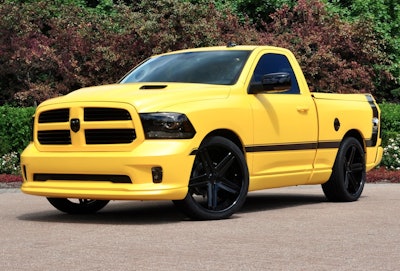 Ram unveiled its attention-grabbing 1500 Rumble Bee concept truck at the Woodward Dream Cruise in Detroit this past weekend, according to a report from our sister site, Equipment World.
The truck features a matte paint Ram calls "Drone Yellow," sports 24-inch wheels, a lowered stance and a black racing stripe that begins at the headlights and fades toward the tailgate into a honeycomb pattern.
The grille, hood vents, Ram badges, fuel door and dual exhaust tailpipes all feature a gloss black color.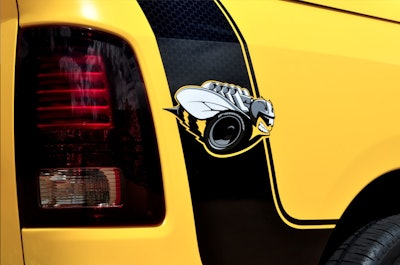 The concept truck also features a new Rumble Bee logo Ram calls "Speed Bee" on the truck's exterior and stitched on the black and Drone Yellow leather sport mesh seats inside the truck.
A 5.7-liter HEMI with a custom yellow and black engine cover powers the two-door 2013 Ram 1500 R/T, providing 395 horsepower and 407 pound-feet of torque. The Rumble Bee truck also includes a TorqueFlite 8-speed automatic transmission, a Mopar cold-air intake system and a 4.10 gear set.
Ram also included an 8-speed rotary shifter knob that lights up with a honeycomb pattern to display a real bee encased in amber, as well as the ability to bypass the cat-back dual-exhaust with the touch of a button.
Ram designed the Rumble Bee concept for the 10th Anniversary of the first Rumble Bee. The company is not planning to produce an actual Rumble Bee at this point.
Check out EquipmentWorld.com to read more and to check out more photos and a video of the of the truck's full growl.