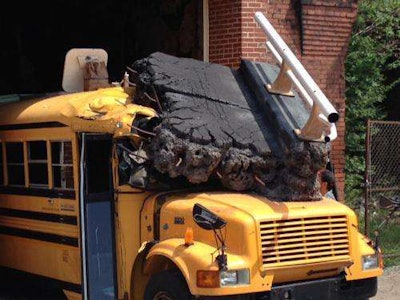 The Laborers' International Union of North America (LIUNA) this week began its national bus tour promoting infrastructure investment.
The tour, dubbed "Getting Schooled in Infrastructure," is part of the union's creative media campaign that was unveiled last month.
The tour kicked off on Monday at the now-closed I-495 bridge in Wilmington, Wash. The bridge closed earlier this month after engineers noticed its support pillars were tilting.
The highlight of the tour is a school bus that has been crushed and carries a prop resembling a large piece of a fallen bridge. The bus will travel through more than 22 cities and Congressional districts.
The campaign aims to teach Americans about the consequences of inaction regarding the nation's infrastructure. It also includes billboards that warn drivers about old bridges.
Additionally, earlier this month, LIUNA released the results of a survey showing that 59 percent of Americans are concerned about unsafe road conditions as a result of poor road surfaces.
"It's time to stop sugar-coating this issue," LIUNA General President Terry O'Sullivan said in a prepared statement. "We are not trying to scare people, but we are trying to wake people and Congress up."