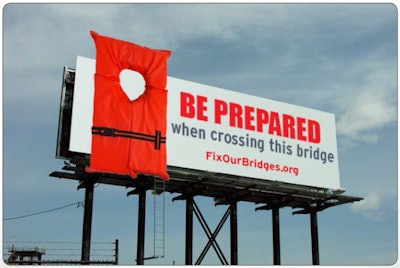 The Laborers' International Union of North America (LIUNA) on Monday unveiled its new creative media campaign, which is created to urge Congress to pass a long-term, full-investment highway bill.
The union unveiled the campaign at an Infrastructure Week briefing at the Newseum in Washington, D.C. The announcement came hours before the Senate Environment and Public Works (EPW) Committee unveiled its six-year reauthorization bill.
The campaign consists of billboards, radio ads, online tools and events and activities.
LIUNA plans to launch the campaign in Pennsylvania, Michigan and Ohio. Nearly $1 million has been invested in it.
LIUNA General President Terry O'Sullivan said the campaign will look not only at the jobs affected by the bill and a nearly insolvent Highway Trust Fund, but it will also point out safety needs.
"For LIUNA, passage of a highway bill is about jobs, but, as with every American, it's about ensuring the safety and reliability of our transportation systems," O'Sullivan said.
"There is no excuse," O'Sullivan added. "Congress now has several viable, responsible options in front of them to pass a Highway Bill and save the Highway Trust Fund."
The campaign focuses on the consequences of inaction and will highlight facts such as:
The average bridge in the U.S. is 46 years old, while the average lifespan is 50 years.

An average of 25 bridges collapse each year in the U.S.

According to TRIP, potholes and poor road conditions contribute to 1/3 of all traffic fatalities every year.
With billboards displaying messages including "Be prepared when crossing this bridge" and "This bridge was build to last 50 years in 1928," the ads aim to show the dangers associated with old bridges, damaged roads and other surface transportation problems.
See more images of the billboards below, then head over to liuna.org to check out the rest of the campaign.
All images courtesy of LIUNA.