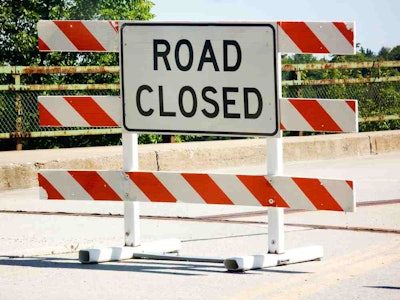 Two news stories in particular have me thinking of what our nation will look like without a Highway Trust Fund fix.
The first is a bridge closure in Delaware.
According to an Associated Press report, officials closed a bridge near Wilmington because the support pillars are tilting by as much as 2.4 degrees. Engineers feared the 40-year-old bridge would be dangerous if drivers were allowed to continue traveling over it in such condition.
One thing to note is that as of Wednesday, engineers did not know what caused the shift. (Sound familiar?) A more recent report speculates that a pile of dirt dumped near the bridge may have affected the stability of the soil at its base.
The closure prevents about 90,000 cars each day from traveling across the bridge, forcing traffic to further congest Interstate 95, which runs through the downtown area. This is likely to go on for several weeks.
Another story is about a sinkhole.
Wall Street Journal reports that a mile-long stretch of U.S. 50 in Annapolis, Md., is closed indefinitely due to a sinkhole with an opening of more than three feet in diameter. (The report notes that the sinkhole actually stretches the width of road, unseen.)
This closure diverts traffic to Route 665.
Check out WSJ's comments section, and you'll see groans about infrastructure, particularly about a lack of attention.
These two incidents are prime examples of what could happen across the nation with a lack of sound funding for transportation infrastructure. And, quite honestly, that lack of funding is a possibility. The U.S. DOT projects the Highway Trust Fund, the main source of transportation funding for state and local municipalities, to run out of money by the end of August. That's less than three months away, folks.
That lack of funding would mean state DOTs would not be able to plan for new projects and they would struggle to pay for repairs and upkeep. Let's not forget that 700,000 jobs are also at stake.
So, put the pressure on your senators and congressmen. Call them, email them — urge them to fix the Highway Trust Fund now. (Need some help? Check out these resources.)
What are you doing to help move this effort forward? Tell me in the comments, or email me at amanda.bayhi@randallreilly.com.