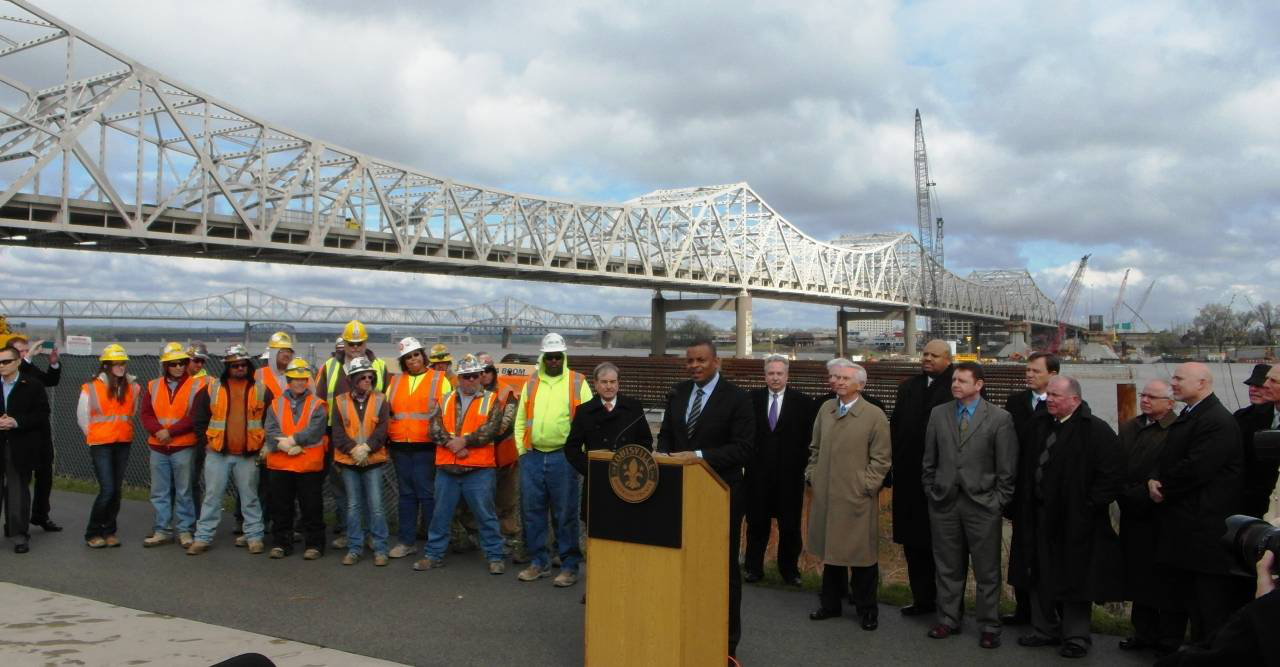 After his visits to Kentucky and Tennessee on Tuesday, Transportation Secretary Anthony Foxx reiterated one word: jobs.
He visited Louisville, Kentucky and Nashville, Tennessee for the second day of his "Invest in America, Commit to the Future" bus tour.
His first stop in Louisville was the Ohio River Bridges project, which is set for completion in 2016. In a post on the DOT's Fast Lane blog, Foxx notes that the completed bridge will be the first new bridge in the Louisville area in more than 50 years.
Foxx says the project "will support more than 4,000 construction and engineering jobs" and will generate economic growth that creates an additional 15,000 jobs.
"At DOT, we were enormously proud to have provided roughly $1 billion in federal funding and loans to build this project," Foxx writes. "It's a pretty good investment when you consider that money is going to a project that will have an $87-billion-dollar economic impact on this community and our country."
While in Louisville, Foxx also stopped by the UPS Worldport. On the DOT's blog, Foxx points out how transportation investment affects jobs beyond those in the transportation industry.
"By 2050, we're going to have to haul an additional 14 billion tons of freight around this country," Foxx writes. "Needless to say, without new investment, supply chains will fall apart, hindering job growth and harming retailers, manufacturers, and the millions of American consumers who need their goods to be transported efficiently and affordably.
Foxx's last stop of the day was the Intestate 40 bridges in Nashville, Tennessee. Foxx paints a picture on the Fast Lane blog of these nearly 46-year-old bridges.
"In fact, just last summer, the Charlotte Avenue bridge was closed not once, but three times, because chunks of concrete kept crumbling and falling onto cars and the roadway," Foxx writes.
He notes that the bridges carry 130,000 vehicles daily.
Foxx says the Tennessee Department of Transportation (TDOT) plans to "rehabilitate the steel and bridge decks on all four bridges and re-pave about three miles of connecting roadways on I-40." In the title of the blog, Foxx notes that the project is "an opportunity to improve lives [and] create jobs."
To read about Foxx's visit to Ohio on Monday, click here.