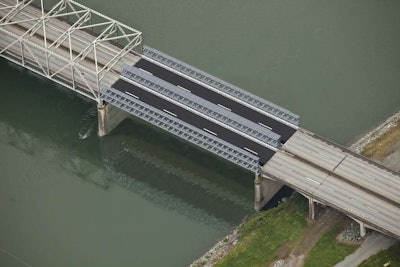 Washington State Department of Transportation (WSDOT) announced Monday that it plans to have the Interstate 5 Skagit River Bridge temporary span open sometime next week.
The bridge has been closed since a portion of it collapsed into the Skagit River last month when a large truck struck a steel support.
Crews working for WSDOT have removed the collapsed portion of the old bridge from the Skagit River, created and placed new concrete pedestals to support the temporary bridge, repaired the remaining sections of the Skagit River Bridge and moved the first of two temporary sections of the bridge into place.
The crews plan to work in around-the-clock shifts this week to finish positioning the first section of the span over the concrete supports and to complete work on the second section.
For more information about the I-5 temporary span, visit wsdot.wa.gov/Projects/I5/SkagitRiverBridgeReplacement.
Check out the gallery below for photos of WSDOT crews working to reopen the bridge. All photos courtesy of WSDOT.
[nggallery id=2]