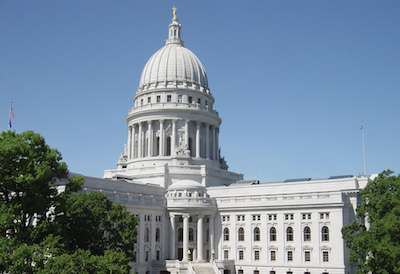 After two days of chaotic protests from union supporters and construction industry workers and officials, the Wisconsin Senate voted late Wednesday night to pass fast-tracked right-to-work legislation.
According to a report from the Wisconsin State Journal, Senate Bill 44 passed by a margin of 17-15. The bill would mean Wisconsin workers in the private sector could not be forced to pay union dues.
The bill is expected to be taken up by the state's House of Representatives next week. Gov. Scott Walker has voiced his intention to sign the bill should it pass, making Wisconsin the 25th right-to-work state.
Republican and Senate Majority Leader Scott Fitzgerald called the bill, "the most important jobs bill the Legislature will consider in the next two years," and that some businesses would decide whether to set up shop in Wisconsin, or stay there, based on it passing.
On Tuesday and Wednesday, more than 2,000 opponents to the law gathered outside the Capitol building while hundreds huddled inside. The paper reported that chants and singing could be heard from just about everywhere inside the building as seen in the video below.
On Tuesday, while the bill was being deliberated by a Senate committee, dozens of vocal protestors packed into the hearing room for a public meeting, the Journal reported. The meeting was supposed to give time for public reaction to the legislation, but due to the chaos inside the room, the committee agreed to hold a vote early, sending the bill along for the full Senate vote.
Three of the committee's Republican members left the building Tuesday night with police protection. Fitzgerald said Tuesday he wanted, "the bill passed quickly to prevent unions and employers from extending contracts before the law can take effect."
Should the law pass next week, it would do just that. In a separate report, Wisconsin Building and Construction Trades Conference chairman Dave Branson told the Journal that the state's trades unions would not be able to extend contracts fast enough to postpone effects of the law due to a provision that requires the unions to give members at least a one week notice before any contract changes are made.
Opponents to the legislation have called it a political attack on labor that would disrupt the state's construction industry by causing complications contractor-union partnerships.