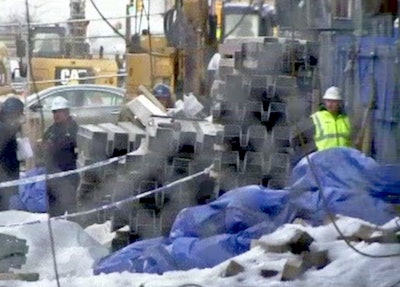 As a crew unloaded steel joists from a truck at a Brooklyn jobsite Tuesday afternoon, four of the beams toppled off the truck and fell on top of a worker, killing him.
According to reports from the New York Daily News, CBS New York and NY1, crews were working on the installation of a "green roof" for the Barclays Center, home of the NBA's Brooklyn Nets. The Daily News reports that the vegetative roof is meant to beautify the arena.
CBS New York reports that the beams were being moved to a crane but fell off the truck before they could be secured.
There is some discrepancy among the outlets' sources as to the cause of the accident.
NY1 reports investigators believe the worker, who has not yet been identified, accidentally hit an emergency release, causing the beams to fall on top of him. However, the Daily News quotes a co-worker as saying the worker was a signal man, adding that the "truck driver unhooked it without being told, (and) it toppled right on top of him."
CBS New York reports the crew is employed by James F. Sterns company, a subcontractor for Bankers Steel.
The city's Department of Buildings and the New York Police Department continue to investigate the accident.