Construction firm Skanska got tired of seeing its female employees struggle with unisex safety vests and gloves that didn't fit properly.
So it partnered with Colony Hardware and Radians to create off-the-shelf safety vests and gloves designed for women that are now available companywide and will eventually be for sale to the public, the company says.
"During my career, I have had to order and hand female employees PPE that is designed and manufactured for men," Jarret Milligan, Skanska vice president of environment, health and safety, says in his company blog. "Gloves fit long fingers and large palms; vests are made for taller and wider frames."
Such ill-fitting personal protective equipment is a nuisance—and a safety issue.
"If gloves are too large, an individual's dexterity is reduced, and they cannot properly grasp onto things," he says. "Long and baggy vests are more likely to catch or snag on handrails, doors and equipment. We also have to consider how comfortably someone can work in PPE that does not fit or how they feel when seen in a vest that reaches down to their knees."
To create the new PPE, Colony Hardware sent the company samples of vests and gloves to try, which the company then presented to 25 women at its offices and jobsites in New York, as well as to female employees at its offices in Boston and Seattle, according to Milligan.
The women suggested changes, which the company relayed to Colony. PPE manufacturer Radians then got into the mix, sending back two prototype vests to consider.
One of the vests is tapered similar to typical vests. The other is not tapered and has an adjustable elastic waistband. They both feature adjustments to the back and sides for a better fit, as well as a large interior pocket, a front pocket to store pens and field books, and microphone straps below the shoulder.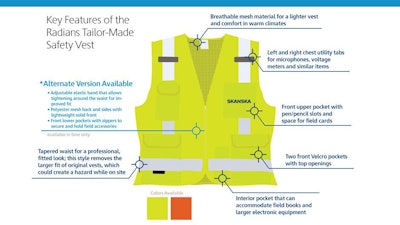 The process also yielded two glove styles, for general use and for when using touchscreens.
"These items are available for every woman in the U.S. construction industry, no matter their location or company," Milligan says.
Skanska has not yet announced when the safety apparel will be available for sale to the public.
The company does say it plans to have more PPE designed for women in the future.
Milligan added that Skanska also is "piloting new construction helmets on many of our projects that, unlike the traditional hard hat, provides added protection to the front, side and rear of a person's head and has a chin strap to ensure it remains in place in the case of a fall."