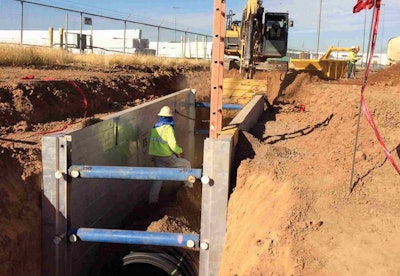 Federal regulators are ramping up a national program to prevent trench and excavation collapses, which includes increased public outreach followed by stepped up enforcement.
On October 1, the U.S. Occupational Safety and Health Administration began a three-month education and prevention outreach, to be followed by enforcement, according to a U.S. Department of Labor news release.
"In light of the recent resurgent number of trenching/excavation fatalities and serious injuries, the agency has determined that these worksites continue to warrant an increased enforcement presence," according to an OSHA instruction to area offices and state OSHA plans.
After the three-month outreach, the instruction calls on compliance safety and health officers to inspect any open trench or excavation they see, regardless of whether they readily observe a violation. If they see trenching operations but can't begin an immediate inspection, they are to notify the area office.
If they can inspect immediately, they are to notify the area office to get supervisory authorization. If they can't get through to the area office, they can begin an immediate inspection. The officers' priority will be to prevent employee exposure to observed hazards, the instruction says.
The updated OSHA instruction provides for a national reporting system for all OSHA trench and excavation inspections. It also requires each area or regional OSHA office to develop and implement public outreach programs on trench safety and compliance with federal regulations.
The instruction says its goal is to protect employees from potential cave-ins, and the agency "believes that there is a potential for a collapse in virtually all excavations."
The instruction noted that 130 cave-in deaths were reported between 2001 and 2016. Of those, 80 percent, or 104, involved the private construction industry, with about half occurring between 2015 and 2016.
OSHA reports that 38 percent of the fatal cave-ins were at industrial locations, 38 percent were at private residences, and 20 percent were at streets or highways.
Equipment World examined OSHA data between 2016 and 2017, finding 51 fatalities.
"Removing workers from and helping workers identify trenching hazards is critical," said Deputy Assistant Secretary of Labor for Occupational Safety and Health Loren Sweatt. "OSHA will concentrate the full force of enforcement and compliance assistance resources to help ensure that employers are addressing these serious hazards."
OSHA has developed a series of compliance assistance resources on trench safety. Its trenching and excavation webpage also provides information on trenching hazards and solutions.
For more on the business and human costs of trench-collapse fatalities in the United States, see Equipment World's special report Death by Trench.