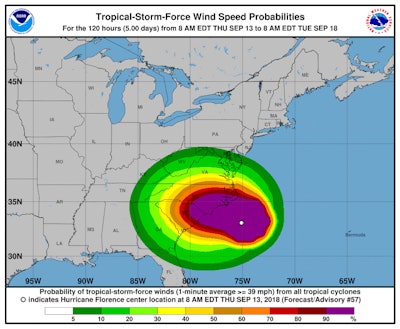 Though residents in the coastal regions of North Carolina, South Carolina and Georgia are bracing for the landfall of Hurricane Florence, expected Friday morning, those in Charlotte may have one less thing to worry about: flying cranes.
According to a report from the Charlotte Observer, the paper of record for the North Carolina city where tower cranes "have become part of the skyline" during the city's construction boom, those machines should ride (or spin) out whatever winds Florence can hurl at them.
Speaking to the president of Pineville-based crane company Heede Southeast, Dennis Kenna, the paper reports that the cranes dotting the Charlotte skyline are designed to withstand hurricane-force winds of about 100 miles per hour.
After a few dread-filled days of wondering whether Florence would slam into the Carolina coastlines as a category 5 storm, forecasters overnight on Thursday downgraded the storm to a category 2, expecting it to make landfall at that strength or as a category 1 storm. Forecasters are still telling residents in coastal regions to regard the storm as extremely dangerous.
Though Charlotte is a little more than 200 miles inland of coastal city Wilmington, the Observer reports the region has about a 40 percent chance of seeing tropical storm-force winds of more than 39 mph. The latest NOAA forecast says the region could see winds between 60 and 80 mph. Tropical storm-force winds could arrive to Charlotte as early as Thursday at 8 p.m.
Kenna tells the Observer that when meeting strong winds, the cranes around the city are designed to spin like a weather vane, "just like on top of the barn," he says.
In preparation for the storm, Crescent Communities, which is building an apartment complex and office tower in the city, has placed its cranes "in rotation mode so they can swing freely, minimizing wind resistance," says David Miller, Crescent's director of construction.