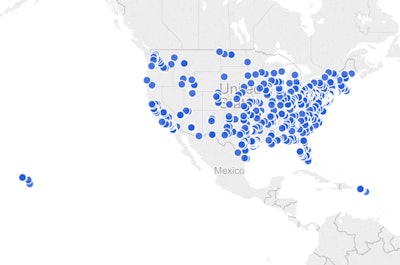 An interactive map that seeks to plot out all available reports of workplace deaths in the U.S. during 2014 offers a sobering reminder of just how dangerous construction work can be.
The map, eleased on Workers Memorial Day (April 28) earlier this year, is published by Global Worker Watch (GWW) and is composed through the efforts of researchers scouring media reports, victim family reports, and available data from the Occupational Safety and Health Administration.
When hovered over, each dot on the map displays the location and any available information on the circumstances surrounding the fatalities.
Because it depends on what is available, the map likely only represents one-third of all workplace deaths in 2014, GWW says.
As the illustration on the right shows, construction, by far, accounts for the most deaths among all surveyed industries with 648 deaths in 2014. Construction deaths are plotted on the map in the image above.
The most up-to-date official construction fatality tally available from the Bureau of Labor Statistics is from 2013, and we won't have a preliminary count from the BLS on 2014 until the fall. The BLS reports 828 construction workers died in 2013, the highest number of deaths seen in the industry since 2009.
With that number in mind, and given the sharp increase in construction activity in the last year, the GWW data plotted in the interactive map is likely a low estimation of what the real 2014 numbers will be.
However, the map does serve as a grim reminder of the importance of safety while on the job and it offers the ability to quickly drill down to a state and local region level. You can view the interactive map, here.