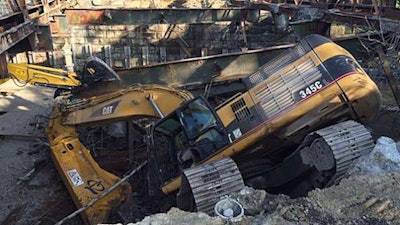 While performing demolition work on a bridge which crosses over a portion of train tracks near Boston, an excavator fell to the tracks below last weekend.
According to a report from WCVB TV, the machine was atop the bridge assisting in the demolition of one of its sides when a floor beam shifted. The shift caused the machine to tip over and fall to the tracks below, Massachusetts Department of Transportation officials said.
Fortunately, the 50-year-old excavator operator was not seriously injured in the ordeal and was treated for a heat laceration.
Crews used cranes to stabilize the bridge before extracting the excavator from the tracks.