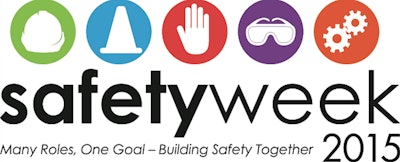 In an effort to increase awareness for heightened and daily attention to safety precautions in the construction industry, a group of firms across the U.S. has launched its second-annual Safety Week for construction.
More than 40 national and global construction firms partnered together last year to form the Construction Industry Safety Initiative (CISI) and the Incident and Injury Free CEO Forum (IIF). Together the groups launched the annual week-long safety event in order to "refocus and reenergize our commitment to reducing injuries on jobsites," according to the event's website.
The event asks company leaders to project-specific and personal pledges to become more involved in their company's safety initiatives. It also asks leaders to make frequent visits to their jobsites during the week to perform safety inspections and form an evaluation on how well the company is protecting its workers.
The website lists several other ideas for companies to try out during the week. It also offers several safety resources to peruse.
Those participating can discuss their company's safety week with others on the Safety Week LinkedIn forum page.