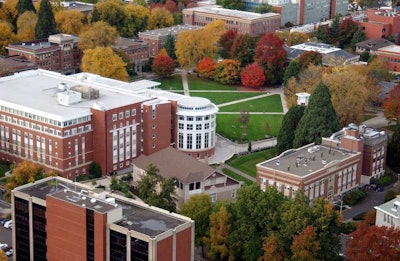 Two North Dakota construction firms have donated a large grant in order to help establish the premier laboratory in the U.S. for the study of industry safety in Oregon.
Knife River Corp. and MDU Construction Services Group have donated a combined $1 million to establish the lab at Oregon State University in Corvallis. The lab will be called the MDU Resources Group Construction Safety Laboratory, bearing the name of the two firms' parent company.
The lab will bring workers in and drop them into simulations of real-world jobsite situations and dangers through an interactive, high-definition projection system. The lab will also have a driving simulator to study operator behavior and what actions workers take inside a work zone full of equipment and other vehicles.
OSU researchers say the aim of the lab is to establish safety considerations as an element of the design phase of construction, resulting in projects that are not only safer to occupy but safer to build and maintain as well.
"There's a long history in the construction industry of architects and design engineers leaving construction safety up to the builder or contractor, saying it wasn't really the designer's concern," said OSU professor of civil engineering John Gambatese.
"Some of this dates historically to the separation between owner, architect, contractor, maintenance and construction worker," Gambatese said. "There are also legal and liability issues. But there are many ways we can improve construction safety with this approach."
No opening date has yet been set for the new lab.