By Amy Materson
EDITOR'S PICK
POWERFUL FEATURES
Doosan's DX140W wheel excavator delivers power and performance via a 135-horsepower, six-cylinder, water cooled, Tier 4 Interim diesel engine. The DX140W has an Electronic Power Optimizing system that maximizes both power and fuel efficiency with four work modes (digging, breaker, shear and lifting), as well as an auto-idle. Doosan has included a new electronic fan clutch that reduces fuel consumption and noise while improving the cooling system. An enhanced ROPS cab includes a tilt function for the seat, lockable door window position slider, larger door, expanded cabin size, improved joystick angle and an internal coil spring that reduces cabin vibration by 20 percent. Additional machine features include individually controlled outriggers, an oscillating front axle and an optional Intelligent Floating Boom that enables to boom to move up and down freely without hydraulic flow.
Text INFO to 205-289-3715 or visit www.eqwinfo.com
TIRE TACKLER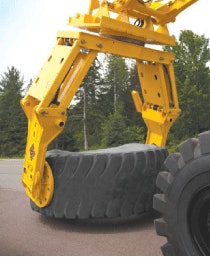 Iowa Mold Tooling has revamped its lineup of TireHand tire manipulators, including adding two new models. The units are available in loader or forklift truck-mounted options and provide capacities ranging from 5,500 to 36,000 pounds. The two new models – the TH20K167 and TH36K164 – offer 20,000 and 36,000 pounds of capacity, respectively. Design enhancements include an optimized pad design that features a new grip pattern and tapering, enabling a firm grip on the tire without damage; increased arm length that allows the TireHand to reach the back flange on the wheels; a minimized arm profile that reduces interference with chassis components; dual pinion pad rotation that reduces pinion stress while increasing life; and 100-degree cylinder body rotation that moves the center of gravity closer to the machine, allowing a smaller loader to be used. Integrated fallback protection arms are hydraulically controlled for easy operation and improved operator safety. The feature can be activated from the control panel or a remote control. Options include quick coupler attachments, fully proportional controls and a mounted camera.
Text INFO to 205-289-3715 or visit www.eqwinfo.com
COMPACT DESIGN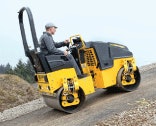 Experience all-around visibility and intuitive controls with BOMAG's BW100ADM-5 tandem vibratory roller, which features an operator's platform with a smaller diameter steering wheel, multifunctional travel lever, adjustable seat and circular instrumentation. Powered by a 20.2-horsepower water cooled Kubota diesel engine, the BW100ADM-5 delivers 3,822 pounds of centrifugal force at a 3,780-vpm frequency. The engine's Ecomode system idles the engine while the roller is inactive, saving fuel. The roller, which has a 39.4-inch working width, has its travel motors contained within the drums instead of hanging from the drums, ensuring a compact design and boosting maneuverability. Additional features include a 26.4-gallon water tank, pressurized spray system with triple filtered nozzles, BOMAG's Intelligent Vibration Control, spring-applied hydraulically released parking brake, ROPS with retractable seat belt, backup alarm, emergency stop button, front and rear lights for night operation and a lockable engine hood and instrument panel.
Text INFO to 205-289-3715 or visit www.eqwinfo.com
DIGITAL WELDING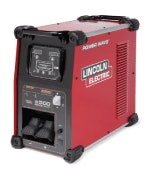 Weld thicker materials with Lincoln Electric's Power Wave S500 advanced process welder, which has more than 65 standard welding waveforms for optimized arc performance in specific applications, and powers Stick, DC TIG, Pulsed DC TIG, MIG, Pulsed MIG and Flux-Cored processes, including Pulse-on-Pulse, Power Mode, RapidArc and Rapid X. The Power Wave S500 is rated at 450 amps, 36.5 volts at 100-percent duty cycle and a max of 550 amps, 41.5 volts at 40-percent duty cycle, with an output range of 5 to 550 amps. New hardware and software enhancements include iARC digital welding controls, which are more than 10 times faster than the previous generation controls; Integrated PowerConnect Technology, which automatically adjusts input power; CheckPoint and Production Monitoring 2.2, which enables welding operational data viewing on devices that include desktop computers, laptop computers, iPhones, iPads and more. Welding waveform and firmware upgrades can be obtained via a standard Ethernet connection. The modular unit can also be used with the optional Surface Tension Transfer Module or the Cool Arc 55 water cooler module, as well as transitioned into automated applications.
Text INFO to 205-289-3715 or visit www.eqwinfo.com
ONE PERSON MEASUREMENTS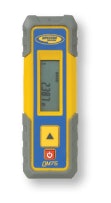 Trimble's Spectra Precision QM75 Quick Measure distance meter – the first in a new portfolio of Quick Measure distance measurement tools – is an easy-to-use one person tool useful in range of applications. Measure up to 230 feet with 1/16-inch accuracy with the QM75, which has selectable units of measure including meters, millimeters and fractional and decimal feet/inch units. Features include an illuminated large liquid crystal display for viewing in poor light, a specially engineered housing that withstands drops to 5 feet and a bright laser spot for measuring hard-to-reach places. The unit's compact size allows the user to carry the QM75 in a pocket.
Text INFO to 205-289-3715 or visit www.eqwinfo.com