Better Rather Than Bigger
The 14-foot-class backhoe remains the industry standard thanks to high maneuverability, increased power and a growing role on the jobsite fueled by attachments.
By Wayne Grayson
For years, the 14-foot-class has been the industry standard of backhoes. Manufacturers say the class accounts for about 70 percent of backhoe sales and there are more 14-foot models on the market than any other size – 20, to be exact.
But even though the 14-foot-class dominates the market, backhoes in the two classes above it can be tempting when considering a new machine. Beyond the extra reach and dig depth you can get out of a 15-, 16- or even 17-foot backhoe, these machines also pack more power. And though they're more expensive, many contractors could justify the additional expense because they're more capable.
However, as Equipment World learned from conversations with four backhoe manufacturers, bigger isn't necessarily always better. Thanks to new features and other advancements, 14-foot-class backhoes are more powerful than ever, rivaling and sometimes exceeding the capabilities of their counterparts in the class above.
Jim Blower, JCB's backhoe product manager, says he definitely saw a trend toward the 15-foot-class before the economic decline when contractors had extra to spend, however.
"A lot of the time, a newer 14-foot machine will line up well with an older 15-foot machine as far as the power is concerned."
"When you get to the 15-foot-class, you get a little more machine horsepower, and sometimes up to 20 percent more digging power," Blower says. "It's also about the (longer) reach. You spend less time repositioning the machine and more time digging."
Blower says the trend he saw toward 15-foot backhoes was mainly due to the extra power they provided, despite the 9 to 10 percent premium on the price.
Powerful choices
Case brand marketing engineer Katie Pullen explains that in today's market, power is becoming less of a reason to look away from the 14-foot-class.
"With all of the advancements we've seen in the past 10 years, manufacturers have added a lot more power to the 14-foot-class machines. Many times, a newer 14-foot machine will line up well with an older 15-foot machine as far as the power is concerned," she says.
…with the advance in popularity of the extendable dipper… it really isn't all that important to have an extra foot of reach any more.
Case launched the N series in 2010, adding the Power Lift feature, designed to increase the lifting and backhoe performance of the machine. Pullen says Power Lift not only boosts the boom lift capacities but also helps with the dipper and bucket forces. "Now you typically see people going to larger machines only if they need them to break through hard soil or if they needed longer reach for safety reasons," she says.
When comparing the current 14-foot and 15-foot models, there is a clear separation in average horsepower. According to the Equipment World 2012-2013 Spec Guide, the 20 machines in the 14-foot-class have an average of about 90.4 horsepower, while the 10 machines in the 15-foot class average at about 104 horsepower. As you add in the 16-foot-class to that average, the number actually drops to 103.
However, with several 14-foot backhoes boasting horsepower in the mid-90s and above, those machines meet and exceed the horsepower of quite a few of their counterparts in the higher dig depth classes. One such backhoe is JCB's 4CX 14FT, whose 98-horsepower engine gives it more horsepower than 40 percent of the machines in the 15-foot class directly above it. And don't forget Terex's TX860B Elite. With 15,615 pounds of bucket digging force, the 14-foot TX860B is more powerful than 80 percent of the 15-foot backhoes in the class above it.
Adding reach
Marcello Bargellini, product specialist for Volvo Construction Equipment backhoes, says another way the 14-foot-class is stealing some of the 15-foot-class's shine is the growing popularity of the extendable dipper. These optional extended sticks add anywhere from 3 feet, 6 inches to 4 feet of extra reach to machines in the 14-foot-class.
"Basically with the advance in popularity of the extendable dipper, if you've got a 14-foot backhoe, it really isn't all that important to have an extra foot of reach any more," he says. After all, the only backhoes Volvo offers, he notes, are the BL60B and BL70B, the latter of which has a maximum dig depth of 14 feet, 11 inches, extendable to 18 feet, 4 inches.
"I'm not saying it's not important at all. Sometimes it's good to have a slightly larger machine if the job calls for a larger dig depth, higher lift capacity and breakout forces," Bargellini says. "We are going to launch a 15-foot backhoe eventually, but for now, unless the builder really needs that extra dig depth or extra reach in the back, most seem to be doing well with the 14-foot. Almost 70 percent of our owner operators order the extendable dipper with their 14-foot machines."
Louann Hausner, product marketing manager for backhoes and landscape loaders at John Deere Construction and Forestry, notes the most common sense reason to keep the 14-foot-class in mind: maneuverability. "What the 14-foot backhoe provides is the ability to do loading and excavating functions with the highest level of maneuverability compared to larger-sized machines," Hausner says.
And because the 14-foot-class machines are smaller, they are more fuel-efficient, which can add up to significant savings over the life of the machine.
A matter of control
"A lot of power, ergonomic and comfort enhancements have really stepped up the 14-foot-class to be as much of a Cadillac as the 15-foot machines and larger," Pullen says. Pullen says one of Case's recent refinements is Pro Control, an anti-rebound system that eliminates the side-to-side jerking created when swinging a loaded backhoe and bringing it to a stop.
"Before, you'd swing the backhoe off to the side to dump the load of dirt and you'd bring it back over to the trench, you'd have to wait for that jerking to stop before you drop it back into the trench," she explains. "With Pro Control it comes to an immediate stop so it makes it a lot easier for novice operators to hit that stop. That improves cycle times quite a bit."
Hausner says John Deere's new loader controls place control of all auxiliary hydraulics for the loader bucket, such as those for a multi-purpose bucket, and others in one location.
"Coupled with a hydraulic quick coupler, operators can easily attach and detach loader attachments without having to leave the cab," Hausner says. Deere also offers a 14-foot "Total Machine Control" backhoe that provides the combination of a loader with parallel lift to support forks. Hausner says Deere has increased travel speeds on the five-speed 310SK to 25 mph, and is now offering an AutoShift transmission option to provide the smoother operation over previous models.
Rather than focusing on a bigger backhoe, Bargellini says Volvo has worked to improve its B Series backhoes. "We made a spacious cab that is 6 inches wider with much higher visibility than previous models."
Blower says to keep your purchase in context.
"Keep in mind the number one application you're going to use it for and match the backhoe to that application," Blower says. "Don't overbuy and buy a bigger machine, because bigger isn't always better."
ROUNDUP
John Deere
In March, John Deere updated its backhoe lineup with the K-Series, which contains four 14-foot-class models, the 310K, 310K EP, 310SK and 310SK TC. Each model is powered by an Tier 4-certified Interim John Deere PowerTech engine, providing the machines with 70, 88, 96 and 102 horsepower, respectively. An electronically controlled, variable-speed cooling fan, controlled by an electronic clutch, reduces horsepower draw on the engine for quieter operation and improved fuel economy. Each K-Series loader comes equipped with a five-speed transmission that allows top speeds of 25 mph when roading. The optional AutoShift transmission enables smooth shifting and improves operator comfort by reducing the number of times the transmission control lever needs to be actuated during operation. A single loader lever with integrated electro-hydraulic auxiliary loader control eliminates the need for a second lever when using a multi-purpose bucket. K-Series backhoes with the sealed switch model security feature come standard with auto idle, auto shutdown and keyless start.
For product info, visit deere.com.
Case
Case's N Series backhoe line includes three 14-foot models, the 580N, 580 Super N and 580 Super N Wide Track. Each backhoe features a 3.4-liter, Tier 4 Interim-certified, turbocharged engine rated at 78 horsepower in the 580N and 92 horsepower in both the 580 Super N and 580 Super N Wide Track. Case says the engine provides an increase of 4 percent fuel efficiency over previous models. The standard Ride Control feature on four-wheel-drive models engages at roading speeds to help reduce bucket spillage. Case also added a standard panel of dipper teeth on the bottom surface of the dipper, along with an optional extension/replacement pack that can expand the area of the dipper covered with serrated teeth. The dipper teeth protect the dipper from excessive wear and enable the operator to secure unusually shaped or oversized pieces of debris or rock by pinning those objects against the dipper with the bottom of the bucket. Remote hydraulic test ports on N Series backhoes allow ground-level access for quick service diagnosis.
For product info, visit casece.com.
New Holland
The C Series backhoes from New Holland include two 14-foot models in the B95C and the B95C TC. Both feature 97-horsepower, Tier 4-compliant, FPT engines and optional auto ride control, replacing the standard ride control on previous models. Previously reserved for wheel loaders, the auto ride control on New Holland backhoes provides stronger loader performance, greater ease of operation and helps reduce spillage and machine looping at elevated speeds. When the operator is traveling at a slower speed, such as pushing into a soil pile, the ride control system automatically shuts off. New Holland has made the C Series loaders more easily serviceable. A new tilt forward hood, which replaces the flip-up hood on previous models, is easy to open, and provides wide access with low effort for routine maintenance needs.
For product info, visit northamerica.construction.newholland.com.
Caterpillar
Caterpillar's F Series backhoe range of 14-foot models are center-pivot machines featuring a Tier 4-certified Cat C4.4 engine, new front loaders with greater lift capacity and more bucket breakout force, improved cooling package access and advanced pump control. The electronically-controlled Cat C4.4 engine provides the 416F and 420F models with 87 and 93 horsepower, respectively. Cat says this new engine provide an increase in performance over previous models using a high-pressure common-rail fuel system for operating efficiency and is equipped with a clean emissions module, consisting of a diesel oxidation catalyst and a long life diesel particulate filter for emissions control. Other feature include a load-sensing, closed-center hydraulic system; the Cat four-speed Power Shuttle transmission for on-the-go directional and range shifting; excavator-style boom for added clearance when digging over obstacles or loading trucks; and an ergonomic, automotive-style operator's station.
For more product info, visit cat.com.
Terex
Terex's ninth-generation backhoe is the TLB840, featuring an 88-horsepower, Perkins engine, 4-speed servo-power-syncro transmission with automatic shifting, which the company says delivers fuel efficiency and high tractive effort. The TLB840 has a curved boom design that gives greater clearance to reach over obstacles and the ability to load closer into trucks. With a dig depth of 14 feet, 9 inches (or 18 feet, 1 inch with the extendable dipper) and a reach up of 18 feet, 9 inches (extendable to 21 feet, 11 inches), the TLB840 is designed with a new slew system that provides high torque for easier backfilling and slewing uphill. With a loading height of 11 feet, 3 inches, the TLB840 can load high-sided trucks, and has 10,485 pounds of bucket breakout force, a loader lift capacity of 7,291 pounds and bucket capacity of 1.32 cubic yards. With return-to-dig selectable at the press of a button, the TLB840 has reduced cycle times and quick loading capability. The hydro-mechanical, self-leveling feature on the TLB840 lets you avoid spillage and allows for load retention at full height. The hydraulic unload button controls the loader's lift speed, as well as boosts the machine's pushing performance.
For product info, visit terexconstruction.com.
JCB
In June, JCB brought its new Tier 4 Interim-compliant Ecomax engines and variable flow hydraulic pumps to both its 3CX and 4CX 14-foot backhoes. The 3CX 14FT and 4CX 14FT are powered by 90-and-98 horsepower Ecomax engines respectively, that use a combination of 29,000-psi common rail fuel injection, variable geometry turbocharger and cooled exhaust gas recirculation to meet Tier 4 Interim emissions standards – and all without the need of diesel particulate filters or exhaust after treatment additives. The Ecomax engine can also be recalibrated to enable the sale of a used backhoe into lesser-regulated countries where higher sulfur content fuels are used. JCB's quick hitch system for attachments includes sensors for the machine's boom and dipper arm. These sensors ensure the bucket or attachment is in a safe zone relative to the machine and to the ground before the hitch can be operated; once the front hook has latched onto the attachment it cannot be released without actively going through the unlocking procedure. In the event of a hydraulic failure, two independent springs for each hook ensure the attachment cannot be dropped, as the unhitching process uses the hydraulic ram to force the hooks open against the locking spring force.
For product info, visit jcbamericas.com.
Volvo
Volvo's BL60B and BL70B backhoes feature a small turning radius and an improved cab with ergonomic controls and 15 percent more space than previous models. Both machines are powered by D5D 4-cylinder, 4.8-liter Volvo engines, with direct injection and turbo charging. A differential lock on the rear axle is engaged via a foot switch on the side of the brake pedal and provides maximum rear wheel grip over slippery surfaces. Both the loader and excavator ends benefit from flow-sharing hydraulics that enable multi-functioning for efficient and smooth operation. The BL70B features load-sensing hydraulics that constantly adapt to the needs of the job through oil delivery that matches the required force. In applications such as load and carry, where speed is important, the system efficiently delivers the required flow. Helped by a new cast bucket linkage design, the bucket on these backhoes can rotate 205 degrees, allowing vertical digging in all positions without repositioning the machine.
For product info, visit volvoce.com.
Machine Matters MORE
A Growing Role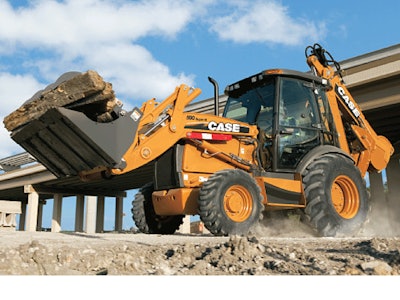 Backhoes take on more responsibility with attachments
By Wayne Grayson
Though the look and primary use of the backhoe has remained the same for some time, manufacturers of these machines say they've seen backhoe uptime increase on jobsites in recent years due to the growing range of attachments available. As more attachments like the ones that follow fill the marketplace, backhoes become capable of getting more jobs done and saving operators the time of switching machines. And to cut down on time between attachments, some companies are devoting a lot of focus to developing couplers that one day might be able to drop one attachment and pick up another as quickly as you might drop a hammer for a shovel.
ROUNDUP
BIG LINEUP
JCB offers six attachment types for its backhoes that are easily attached, front or back, with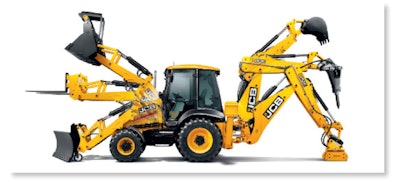 optional quick couplers. Available for JCB's 1CX through 4CX backhoes, the Hammermaster hammer series incorporates high power ratings to ensure greater work speed and maintain constant blow energy regardless of hydraulic oil flow. A quieter version is available for work in urban areas. The General Purpose Loader Bucket comes in a wide range of sizes to fit all JCB backhoes, from the 1CX to the 4CX and is drilled to accept cutting edge or teeth, and can be direct mounted or attached using a JCB Quickhitch. The versatile 6-in-1 Loader Bucket covers all materials-handling duties including digging, loading, spreading, grading, grabbing and dozing. Like the General Purpose Loader Bucket, the 6-in-1 is drilled to accept cutting edge or teeth, and can be direct-mounted or attached using JCB's Quickhitch. Models of JCB's range of brooms and sweeper collectors are available for all JCB backhoes as are specialty buckets and specialty attachments such as augers, planers, compactors, pallet forks and rock wheels.
Visit EquipmentWorld.com/info
QUIET OPERATION
Terex's TXH Series hydraulic hammers are vibra-silenced via a polymer suspension pad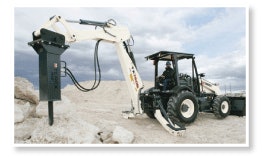 to reduce total operator and carrier machine vibration exposure. The TXH hammers' high-blow energy is constant throughout the engine rev range and has a low susceptibility to back pressure. These hammers are engineered to guarantee lower sound levels, and the entire hydraulic hammer system is easily maintained through a single-point greasing system. Its one-piece box design does not use cross-bolts, allowing the hammer to work in a narrower trench or close quarters without concern that the hammer could get hung up. The TXH Series hammers include the TXH350S, TXH400S, TXH700S, TXH1100S and the TXH1400S. The Terex range of hammers offer 251 to 1,033 foot pounds of maximum energy per blow and 450-950 to 550-1,100 blows per minute. Each TXH Series hammer is built for complete compatibility with Terex compact excavators and backhoes.
Visit EquipmentWorld.com/info
DOZER BLADE
The Bradco Dozer Blade by Paladin
Attachments attaches to efficiently grade and move a variety of construction and
landscaping materials and is designed for backfilling, leveling, piling, grading and landscaping applications. The 30-degree right- or left-of-center angle and the 10-degree horizontal tilt are hydraulically-controlled using only one valve for increased versatility and productivity that allow the operator to make on-the-fly adjustments. The blade moves and pushes large amounts of material quickly with a reversible 0.75 inch by 8-inch bolt-on cutting edge and a formed 0.31-inch thick by 28-inch high moldboard. Designed for durability, it features a large 3-inch center pivot pin with hardened steel bushings and a full-length replaceable high-carbon steel skid shoe. The Bradco Dozer Blade is available in 84-inch and 96-inch widths.
Visit EquipmentWorld.com/info
HEAVY IMPACT
Caterpillar soil excavation buckets for backhoe loaders feature a heavy duty design and a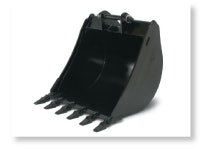 high capacity for use in a variety of conditions including heavy impact. An aggressive adapter nose angle and tip design provide high productivity in all soils and a resistance to dulling in rocky areas. The bucket shape is designed for a more fluid material flow, and tapered sidewalls allow for easy dumping of sticky material. Cat buckets are designed for superior productivity, reliability and long life. Cat Soil Excavation Buckets for backhoe loaders are available in widths of 18, 24, 30 and 36 inches with capacities that range from 6.4 to 13.4 cubic feet.
Visit EquipmentWorld.com/info
INTEGRATED QUICK COUPLER
Case's quick-coupler technology allows the operator to engage and disengage many of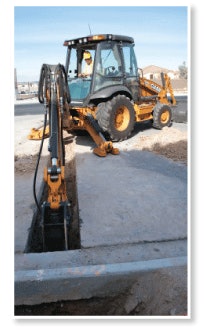 the company's loader and backhoe attachments without leaving the cab. The company says it is the only manufacturer whose backhoe quick coupler is deeply integrated into the controls. The quick-coupler is engineered so there is no loss of breakout force. Popular Case attachments include hydraulic augers, hammers and tampers for the backhoe. In all, more than two dozen loader attachments are available for Case N Series loader/backhoes.
Visit EquipmentWorld.com/info