Air Compressors
Compressors for all weather conditions
Find an on-board air compressor that meets your specific needs – be it dealing with searing heat or freezing temperatures.
Cold: Specially designed compressor oils – particularly synthetic brands – help with performance and reduce maintenance problems.
Hot: System temperature probes ensure hydraulic and compressor fluid temperatures don't exceed limits. Light-colored and lightweight panels reflect heat. Air-liquid cooling through a dual-core cooler with a dedicated electric fan helps prevent temperature excesses.
Rain: Look for plated or stainless steel fasteners, aluminum housings and other fully powder-coated steel. Weatherproofed electrical connections, O-rings, special weather packs and an air-tight system also reduce maintenance needs.
Source: VMAC
MOBILE AIR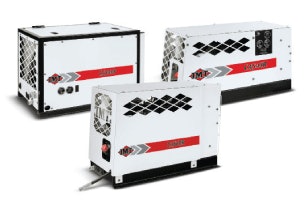 The Iowa Mold Tooling (IMT) CAS45R and CAS60R are single-stage, pressure-lubricated rotary screw air compressors designed for mobile applications. These models feature a hydraulic aftercooler that's integrated into the design. IMT's CAS40P reciprocating model is hydraulically driven and delivers a rated capacity of 40 cfm at 100 psi. The unit is a two-stage, four-cylinder compressor.
Visit EquipmentWorld.com/info
10-HOUR RUNTIME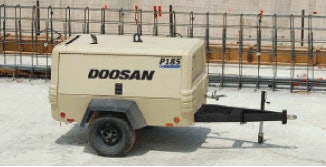 Doosan Portable Power's Platinum Series P185 portable air compressor has a 10-hour, full-load runtime on one tank of fuel. Powered by a 48-horsepower Tier 4 Interim John Deere or Yanmar diesel engine, the P185 provides 185 cfm at 100 to 125 psi. The compressor features a remote, spin-on separator element and electronic diagnostic module.
Visit EquipmentWorld.com/info
ABSORBS SHOCK
Kaeser's M15 and M17 portable compressors combine the Sigma Profile airend with an industrial Honda gasoline engine. With a capacity of 50 to 60 cfm, the units feature vibration isolator pads, an electric starter, hinged handle bar, scratch-and-dent resist enclosure and 5-gallon fuel tank. Options include skid mounting and variable pressures from 70 to 190 psig.
Visit EquipmentWorld.com/info
BATTERY CHARGER

Miller Electric's Trailblazer 302 Air Pak welder/generator/air compressor has an internal 12/24-volt battery charger and jump starter. It welds at 350 amps and provides 13,000 watts of Accu-Rated generator power and 26 cfm of compressed air. The jump-starting mode is activated when the unit senses a load from the starter, and the Trailblazer 302 Air Pak informs the operator if there is a battery with a dead cell, poor connection or an improper voltage setting.
Visit EquipmentWorld.com/info
ENGINE DRIVEN
Vanair introduced its Pro Series of reciprocating engine-driven air compressors at this year's NTEA Work Truck Show. With the option of a Honda or Kohler engine, the Pro Series has air power from 18 to 35 cfm with up to 170 psi. The systems have electric start and are available with skid, 10-gallon twin and 30-gallon tank configurations.
Visit EquipmentWorld.com/info
RESISTANT ENCLOSURE
The Atlas Copco XAS 185 JD7 HardHat portable air compressor features a polyethylene canopy design, which will not rust, dent, corrode or fade. The unit has a 49-horsepower John Deere engine, 185 cfm, removable baffle and road lights. The discharge valve is on the same end as the control panel, which is at waist level.
Visit EquipmentWorld.com/info
SELF CONTAINED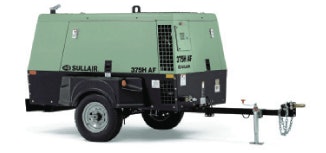 Available with a choice of Caterpillar or John Deere four-cylinder diesel engines, the Sullair 375H AF portable air compressor delivers 375 cfm at 150 psig. This self-contained unit has a low-approach aftercooler, moisture separator with water/condensate trap and contaminant-removal system. The 375H AF also features a pneumatic inlet valve, protective shutdown switches and three-stage air filters with safety elements.
Visit EquipmentWorld.com/info
STEEL HARDWARE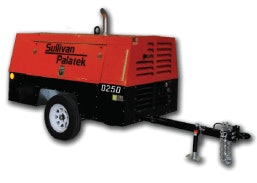 The Sullivan-Palatek D250PJD portable air compressor is powered by a Tier 4 Interim 74-horsepower John Deere diesel engine. Its canopy includes two full-length tool boxes, two service doors, galvanized inner fenders and a rear cooler cleaning panel. The D250PJD's hardware is stainless steel, and its three door hinges are anodized aluminum.
Visit EquipmentWorld.com/info
ADJUSTABLE AIR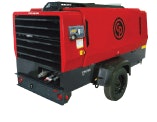 The Chicago Pneumatic CPS 750 JD7 Tier 4 Interim compressor generates 750 cfm of air at 100 psi, and the air is adjustable from 58 to 100 psi. Powered by a 200-horsepower John Deere 6-cylinder diesel engine, the unit has a 78-gallon fuel capacity, A-frame drawbar, surge hydraulic brakes and torsion bar suspension. The CPS is available in a support-mounted configuration.
Visit EquipmentWorld.com/info
AUTOMATIC AIR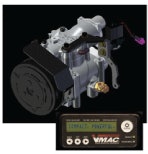 VMAC's Underhood70-G vehicle-mounted air compressor turns the truck off when air is not being used and on when needed. Producing 70 cfm and 175 psi, this system has an adjustable automatic engine control and digital setup on the LCD control box display. The Underhood70-G kit is designed for the Ford 6.7L power stroke diesel.
Visit EquipmentWorld.com/info
BELT DRIVEN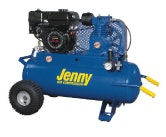 Operating on either a recoil or electric start, Jenny Products' K-Series single-stage compressors deliver 8.9 cfm at 100 psi or 8.6 cfm at 125 psi. The compressors come in four air tank configurations – 8-, 15-, 17- and 30-gallon air tanks – and are belt driven with a flywheel. The K-Series also has anti-vibration feet, manual tank drains, a stainless-steel braided discharge hose and outlet pressure safety gauges.
Visit EquipmentWorld.com/info