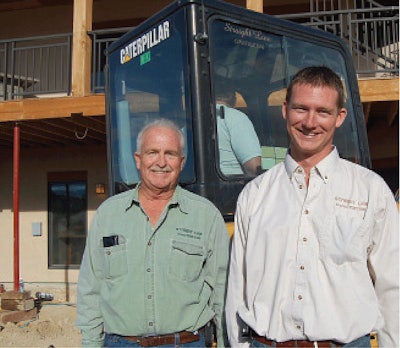 Tim Davis Jr.
Pueblo West, Colorado
Straight Line Construction
Year started: 1982
Number of employees: 95
Annual volume: $3 to $5 million
Markets served: Commercial and residential installation of helical piers, micro piles, compaction grouting, mud jacking
Having a degree in engineering, Tim Davis Jr. welcomes technological challenges. As a contractor, he has the resources and capabilities to put his solutions into action.
The combination of the two, says father Tim Davis Sr., has taken their 30-year-old family business and jacked it to new levels.
That's not to say Straight Line, based in Pueblo West, Colorado, wasn't always a little different. When Tim Sr. broke out on his own, after 16 years as a "readying" superintendent working for large construction companies, he discovered a lot of new contractors scavenging for the same morsels of income. "In the early '80s, the economy here just hit bottom," says Tim Sr. "You couldn't buy a job." He turned his attention to a foundation rehab technique that was both unknown at the time and needed in his area: mud jacking, also known as slab jacking.
Haphazard backfilling during an earlier residential boom left many homes in southern Colorado with what Straight Line politely calls "unwelcome movement." In lieu of tearing a slab out and starting over, Tim Sr. explains, drilling through the concrete and raising it with high-pressure grout offered a cost-effective solution for developers faced with a rash of warranty claims.
"We have a lot of problematic clay in Colorado," says Tim Jr. "The biggest problem we have is getting optimum moisture in the backfill. If you don't get the right amount of moisture in the backfill, the clays consolidate as much as 2 or 3 inches, especially if we have a deep dig." If the contractor had simply pushed in backfill, without proper compaction and lifts, the result can be near catastrophic, he says.
On the day we visited, a Straight Line crew equipped with a compact excavator, skid steer and an army of saws, jacks and helical piers was working on a ranch south of Pueblo. The next-to-new split-level house was rendered a museum of cracked walls and broken dreams, requiring a fix to make the ranch marketable. This is a scene Tim Sr. has seen play out many times over the past 30 years.
"My wife Joyce did the books on the kitchen table. One other man and I did the outside work. And, as Tim grew up, we were the original Two-And-A-Half Men. That same employee, Roger Criswell, is still with us."
Big or small, no job is taken lightly by Straight Line Construction "They don't do things just to make money," says client Clay Vandenburg of Goodrich Aerospace. "They are always looking for ways to save us money."
Straight Line expanded into compaction grouting and grew modestly. Tim Jr. earned an engineering degree and elected to remain in the family business. In the 90s, the firm expanded into steel pier foundations and micro piles – a staple of Straight Line's work today.
A big move
Under Tim Jr.'s direction, Straight Line took its game to Arizona, drilling 70,000 preconstruction micro piles for what will be the largest parabolic solar field in the world, the Solana generating station, located near Gila Bend, owned by Spanish company Abengoa Solar.
Getting the job wasn't easy. Years before Straight Line received the Arizona subcontract, Tim held "lunch-and-learn" sessions with pre-project engineers to explain to Straight Line's processes. It took about a year-and-a-half before he heard back from the owner, and then another three years before receiving a contract. Meanwhile, the job had shifted from Colorado to Arizona. The company finished its primary contract two months early at the beginning of 2012. During the year-long work, it averaged 70 workers on the 9.5-square-mile site. A few crew members have stayed on to maintain the piles, including replacing those damaged during later construction phases.
Working with TEI Rock Drills, a Montrose, Colorado-based drilling supplier, Tim Jr. developed an attachment prototype before the Arizona job. "We needed a drill that was capable of setting up fast and accurately," he says. The contracted tolerance of 4 millimeters made crucial the ability to position the drill directly over the hole. TEI made five drills from the prototype, all mounted on compact track loaders. "Drills are known for building a lot of friction, there's a lot of heat in their hydraulics, and so we needed a system that could keep the equipment cool while it's running," says Tim Jr. "I also needed something that could carry the 3,800-pound drill."
With the drills standing 18 feet tall mounted on the compact track loaders, risk of rollover was a concern – one Tim Jr. put to rest when he drove the prototype-equipped loader down a 45-degree bank. The company's careful safety practices were recognized on the Gila Bend job, when Abengoa Solar listed it first on the project's safety recognition board.
Tim Jr. spent considerable time in Arizona to conduct job setup and launch. "And then he asked me to oversee it," says Tim Sr., who became vice president when his son became president in 2010.
Home support
"As our company grows and the economy changes, we've been trying to diversify," explains Tim Jr. When talking about Straight Line, however, he reserves the greatest compliment to his wife and partner Lauren, who heads office operations. "Lauren has been the strength through the entire growth period of our business," he says. "Not only does she run the entire office, but she runs everything at home on the many occasions that I am either working late or away.
"Without her, I would not be where I am today."


To view a video of Tim Davis Jr.'s advice for contractors starting out, go to equipmentworld.com/digital or use your smartphone to scan the QR code.