By Amy Materson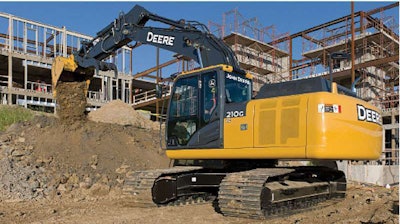 CREATURE COMFORTS
John Deere incorporated customer feedback when designing the company's newest hydraulic excavator line, the G-Series. Available in two models, the 160G LC and 210G LC, the Tier 4 Interim-certified G-Series offers more power and productivity than previous models, combined with a more comfortable cab. The excavators feature John Deere PowerTech diesel engines that deliver 121 and 159 horsepower, respectively, and are equipped with the Powerwise III hydraulic management system that balances machine performance with hydraulic flow for consistent operation. The operator can choose from three productivity modes, as well as a power boost function for use in tough digging. The G-Series has a new cab with a larger entryway, extra legroom, improved visibility and low-effort joysticks. Silicone filled mounts reduce noise and vibration for a quieter cab, and amenities such as storage areas and a hot/cold box for beverages are included. A multi-language LCD control monitor enables the operator to access machine information such as engine rpm and oil temperature. To ensure hassle-free maintenance, the G-Series has easy-access service points and extended engine and hydraulic oil change intervals. The Machine Information Center ensures maintenance information is readily available. Both the 160G LC and 210G LC are available with a variety of options.
Visit EquipmentWorld.com/info
SIMPLIFIED OIL OPTIONS
Shell Lubricants has restructured its portfolio of industrial and transmission lubricants and greases to make it easier and simpler to choose the right product for your applications. The new lineup has four tiers – entry, mainline, premium and advanced – each offering increasing levels of protection. Many of the advanced products will offer synthetic products. The brands include Shell Tellus hydraulic oils, Omala gear oils, Corena compressor oils, Tonna slideway oils and the new Shell Gadus line of greases. "Old to new" conversion tools help you make the transition to the correct product and reduce the risk of misapplication. – Tom Jackson
Visit EquipmentWorld.com/info
RUGGED AND RELIABLE
Perform larger material handling applications with Doosan's DL450 wheel loader, which has a 6.3-cubic-yard capacity. The DL450 has a 56,329-pound operating weight, 52,864-pound breakout force and 41,667-pound full-turn tipping capacity. The 354-horsepower machine features a six-cylinder water-cooled diesel engine that complies with Tier 4 Interim regulations. Options include a hydraulic locking differential to boost driving power during traction loss, and a torque converter lockup clutch for easier grade climbing. Doosan has increased service intervals on the front lift arm pins by 500 percent – from 50 to 250 hours – and tilt cylinder hydraulic hoses have been rerouted for improved hose reliability.
Visit EquipmentWorld.com/info
FUEL-SAVING FEATURES
Improve fuel efficiency with Caterpillar's 777G off-highway truck, which features configurable economy settings, an adaptive economy mode that optimizes fuel consumption based on the operator's baseline, auto neutral idle and Advanced Productivity Electronic Control Strategy transmission controls. The 777G also has 7 percent more torque than the previous model, and is Tier 4 Final certified. Hydraulic oil-immersed disc brakes are standard, increasing slope holding capability, and the truck's traction control system can differentiate between tire spin and high speed turns. New safety and comfort features include a wider access system, 50-percent less sound and vibration reducing technology. Object detection is standard on the 777G via a combination of radars, in-cab display and multiple cameras.
Visit EquipmentWorld.com/info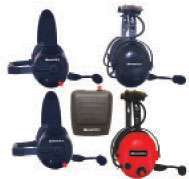 COMMUNICATE CLEARLY
Experience hands-free communication combined with hearing protection with Sonetics' Small Team Communication system. The system consists of two to four wireless headsets and a portable MiniHub. Useful for a variety of jobsite applications, the system has up to 800 feet of range and provides 24 decibels of hearing protection. The headsets operate for up to 12 hours per battery charge. The MiniHub measures 4 inches high and weighs 8.1 ounces for easy portability, and charges from a 12-volt or 110-volt unit in two hours.
Visit EquipmentWorld.com/info

CHOICE OF CAPACITY
Choose from 60,000-, 75,000- or 90,000-pound-capacity models with Trail King's Mechanical Detachable Gooseneck trailer, which offers between 750- and 1,000-pound weight savings compared to previous models. The MG offers aluminum cross members and outer rails as standard equipment on the upper deck and wheel area, while featuring four steel main I-beams constructed of one-piece web and flange material welded on all sides. Additional features include reinforced gooseneck, removable gooseneck rollers, adjustable ride height control, an air-activated positive self-locking pin for the gooseneck and more.
Visit EquipmentWorld.com/info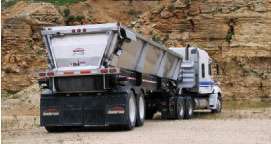 INCREASE UPTIME
Haul asphalt, dirt and more with the Henderson BlackBelt conveyor body, which features a high temperature, 54-inch-wide conveyor belt that rides on a self-lubricating floor liner. The belt system eliminates drag chains, reducing maintenance and down time. The drive system adjusts belt tension depending on varying torque requirements and eliminates drive drum and belt slippage. Designed for tandem axle trucks, the BlackBelt is available in lengths from 14 to 22 feet in 16- to 25-cubic-yard capacities and is composed of 3/16-inch AR400 steel.
Visit EquipmentWorld.com/info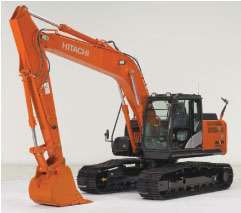 LIFT MORE MATERIAL
Hitachi's ZX180LC-5 excavator features a boom and arm configuration that boosts lift capacity, as well as a wide undercarriage to improve stability. The excavator has two arm choices – 8 feet 10 inches or 10 feet 6 inches – and comes equipped with an 8,620-pound counterweight and 24-, 28- or 32-inch triple semi-grouser shoes. The 121-horsepower Isuzu diesel engine has an EGR platform with a diesel particulate filter, and the operator can choose between High Productivity, Power and Economy work modes. Cab improvements over previous models include more side-to-side foot room, a more comfortable high back seat and an easy-to-operate multi-function monitor. Simplified maintenance includes easy-to-check sight gauges and fluid reservoirs, quick change filters and extended service intervals.
Visit EquipmentWorld.com/info
COMPACT CHIPPER DESIGN
Produce high quality chip efficiently with the Terex Woodsman 700 6-inch-capacity towable disc chipper. The 700 has a 6- by 6-inch infeed opening and a 24-inch-diameter disc with 2 single-sided knives. The 1,925-pound Woodman 700 features a hydraulic feed roll and top discharge, and has a simple design ensuring easy operation.
Visit EquipmentWorld.com/info
TACKLE TOUGH MATERIAL
Experience improved performance in rock breaking and demolition applications with Atlas Copco's HB 4100 heavy breaker, which is as powerful as heavier breakers while weighing less. The 9,039-pound breaker is suitable for carriers weighing 88,185 to 154,324 pounds, and features a guide system for stability and resiliency. Additional features include the VibroSilenced system, which protects the operator against noise and vibration; PowerAdapt, which switches the breaker off during a hydraulic overflow; AutoControl, which adjusts the blow frequency and energy to the material hardness; and ContiLube II, an integrated automatic lubrication system.
Visit EquipmentWorld.com/info
RAPID ROTOR REPLACEMENT
Perform repair work and fine milling work with BOMAG's BM500/15 and BM600/15 milling machines, which feature rotor geometry that reduces vibration and increases service life while also simplifying drum replacement. Both machines offer precise cutting, producing a smooth edge with minimum damage. Diagonal cutters protect the rotor when driving around bends, preventing abrasion to bracket edges. By removing a few bolts, the cutting width can be easily adjusted, and all cables and hoses are routed away from the door, improving drum access. Rotor replacement takes just 30 minutes. Both models feature an 8.3-inch maximum cutting depth and a milling radius of less than 10 inches; the BM500/15 offers a standard cutting width of 19.7 inches and the BM600/15 has a 23.6-inch cutting width.
Visit EquipmentWorld.com/info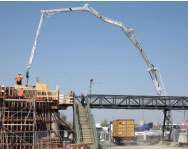 More maneuverable
By placing the 270-degree Z-fold at the tip section, Schwing provides operators of the new five-section S 43 SX concrete pump with enhanced boom maneuverability while placing concrete up to 138 feet 8 inches vertically and 125 feet horizontally. Managed by the standard Schwing vector control system, the RZ boom design – combining features of the Roll and Fold and the Z boom types – provides 918 degrees of total articulation. A slewing range of 740 degrees suits the new five-inch-pipeline concrete pump to applications ranging from light commercial to bridges and infrastructure. It can pump 213 cubic yards per hour. For jobsite maneuverability, Super X outriggers telescope out and around obstacles without extending past the truck's front bumper. When set up, the S 43 SX requires an outrigger spread of only 27 feet 3 inches – both front and rear. An unfolding height of 28 feet 6 inches provides vehicle access to low overhead conditions.
Visit EquipmentWorld.com/info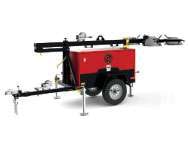 Brighter light
Metal halide lamp technology allows the CPLT M10 light tower to use less power to turn electrical energy into more light, says Chicago Pneumatic. Powered by a Kohler engine with a brushless alternator, the light tower's four 1,000-watt lamps can illuminate up to 7.5 acres. The mast extends to a height of 31-plus feet and can be rotated 360 degrees. A 30-gallon fuel tank provides up to 70 hours of run time. Weighing 1,800 pounds, the CPTL M10 light tower collapses to dimensions of 182 by 48 by 66 inches for transport. The MIG-welded, unibody-style trailer is equipped with a standard 2-inch ball tow hitch. Visit EquipmentWorld.com/info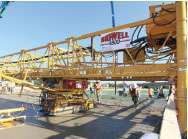 Productive paving
A new fogging system, crown adjuster and engine package are among the 2012 updates to the Terex Bid-Well 4800 bridge paver. Located on each side of the paving rollers, at the burlap drag and drag pan, the independently adjustable, removable spray nozzles can be positioned to direct the fog where it is required to meet wind and mix conditions. The skewable power crown adjuster can either be mounted in-line on a straight paver configuration or positioned on the frame at the skew when contractors need to pave decks with a skew angle. The two 23-horsepower gas engines use Evaporative Emissions technology: one powers machine function and movement; the second dedicates power to the carriage for a more consistent paving operation.
Visit EquipmentWorld.com/info