Trowels and Screeds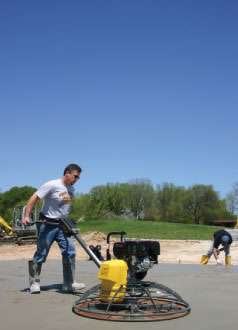 Flip, switch, sensor shut-off
Walk-behind power trowels are basically simple machines consisting of a handle, engine, ring guard, gearbox and lower-blade unit. However, it's important to never overlook proper operation of critical safety features, especially the emergency engine shut-off function. Most manufacturers use a centrifugal flip switch or hold-to-run switch to reduce uncontrolled trowel runaway and bring the machine to a stop. These switches can wear over time and require occasional maintenance. A gyroscopic sensor, like in Wacker Neuson's 36- and 48-inch walk-behind trowels, senses when the operator releases the handle and shuts down the engine, which engages a brake mechanism internal to the gearbox. Whatever type safety system you use, make sure to test its function before operations.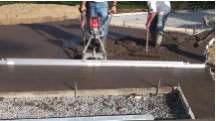 SANDCAST HEAD
For wet screeding and form to form, Lindley's Vibra Strike II
F4 style 2-in-1 floats range from 4 to 16 feet.
• Weighs 36 pounds and has a Honda GX35 four-stroke engine
• Frame and vibrating head are composed of sandcast, heat-treated magnesium
• Has two hardened steel clamp bars and four socket head cap screw with saddle plates.
Visit EquipmentWorld.com/info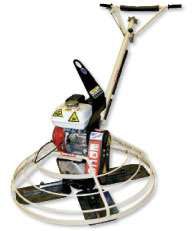 GAS POWER
Edco's power trowels have been redesigned to create high-tolerance concrete floors.
• Available in 36- and 46-inch sizes
• Come standard with 5.5- or 9-horsepower gasoline engines
• Include handlebar, lifting bail, precision-engineered gearboxes and safety rings.
Visit EquipmentWorld.com/info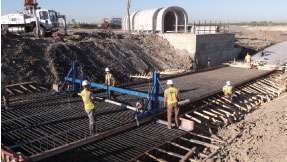 THREADED AXLE
The Lura Lightning Strike roller screed pours flatwork projects from sidewalks and grain bins to foundation pours.
• Features a threaded axle system
• Available in sizes from 2 to 20 feet long
• Couple screeds together for customized pour.
Visit EquipmentWorld.com/info
REVERSIBLE TUBES
Metal Forms' Speed Screed Cruiser truss screed has reversible, aluminum-finishing tubes.
• Uses a self-contained power source
• Has variable width up to 65 feet
• Travels forward by either hand or hydraulic winches.
Visit EquipmentWorld.com/info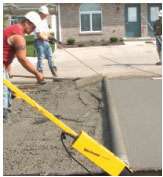 OPPOSITE SPIN
The Spin Screed, powered by an electric head, spins the opposite direction it is being advanced.
• Uses a 22-foot-long aluminum pipe
• Can be used on stiff, low-slump concrete with a 3-inch slump
• Leaves aggregate matrix immediately below the surface.
Visit EquipmentWorld.com/inf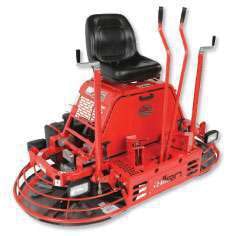 FOUR-BLADE ROTORS
Allen Engineering's MP 215, a redesign of the MP 205 mechanical drive riding trowel, is equipped with a torque converter clutch.
• Features manual steering and blade pitch controls
• Uses two 36-inch-diameter, four-blade, non-overlapping rotors
• Has variable rotor speeds up to 145 rpm.
Visit EquipmentWorld.com/inf
TWO-MODE STEERING
Wacker Neuson's CRT 60-66K combines a hydraulic drive unit with a two-mode electro-hydraulic steering system, engine power regulation system and a built-in hydraulic wheel kit.
• Steering Mode 1 reduces the effects of exaggerated joystick movement, and Mode 2 is for more delicate joystick movement
• Features electronic cruise control and structural forklift pockets
• Powered by a 66-horsepower Kubota turbo diesel engine.
Visit EquipmentWorld.com/info